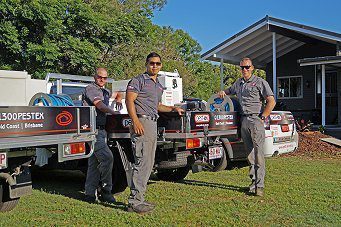 Pest Ex services Boronia Heights and surrounding areas with high quality effective pest control services, including pest inspections, termite control, termite detection and management and pre-purchase pest reports.
Our highly trained and professional pest controllers use the latest in technology to detect and treat a wide range of pests common to the Boronia Heights region.  These include:
Ants, cockroaches and spiders
Bees and wasps
Fleas and bedbugs
Mosquitos, flies and midges
Rats and mice
Termites
The key to effective pest control is to ensure the correct identification of the creepy crawly or flying nuisance in question, and a thorough treatment and ongoing management program.  We also ensure that all of our treatments have passed the highest safety standards, meaning that they are safe for you and your pets, as well as the local flora and fauna in the local area.
Pest Ex is dedicated to the very best customer care and on-site service, and we pride ourselves on providing long lasting, safe solutions to all your pest problems.  So contact us today and find out how we can help you!
pre-purchase and pre-sales pest reports
Would you know just by looking at a property whether it had a pest problem?  It's sometimes hard enough to know if you have a termite issue in your own property, let alone one you are not familiar with.  Finding out that the home or business you just bought is riddled with pests is most people's idea of a nightmare, but luckily with a little foresight and planning this can easily be avoided.
Our pre-purchase and pre-sale pest reports will give you a professional 'snapshot' of the levels of pest activity and associated damage in a property.  Our on-site inspections can generally be ordered and conducted on the same day, and our fully qualified timber inspectors will use high tech equipment to look at:
The inside of the building, including the roof cavity, walls, ceilings and flooring, basement areas and floor joists
The outside of the building, including any related structures such as sheds or car ports, landscaping and trees, fences and walls
Once the inspection is complete, we will provide you with a comprehensive report of our findings, with colour photos and recommendations for treatment for any pests found on site.  We can explain the report to you in person or over the phone if you prefer, and we always ensure that findings are written in easy to understand language so that you get the full picture about the property you might intend to purchase.
So if you are thinking of purchasing property in Boronia Heights or the surrounding suburbs, let Pest Ex give you the peace of mind you need to make a fully informed decision.

TERMITE TREATMENT SERVICES that really work
Having a termite infestation in your property can be a challenging experience, however it is more common in Boronia Heights than you might think.  This is because termites thrive in the warm local climate and are most active in and around bush land and wilderness areas.
If you have spotted termites around your property, or have found what you suspect to be termite damage it's very important to take action as soon as possible.  This is because a termite colony can move into your home or business and cause costly structural damage in only a few months.
As soon as you contact Pest Ex, we will be able to conduct a thorough inside and out on site examination (including hard to reach or confined areas) and determine the best course of treatment.  We are fully equipped to remove an infestations and live nests then and there, or we can give you a quote for the work if you prefer.  We can also provide baits and traps and anti termite systems such as Biflex and Exterra to ensure the long term protection of your property.
If you are renovating or building a new building, we can also provide proven anti-termite barriers that will help stop termites from infiltrating your property.
So if you want a fast response time, thorough on-site inspection and proven treatments and management solutions for termites, give Pest Ex a call today!
pest ex's 100% money back guarantee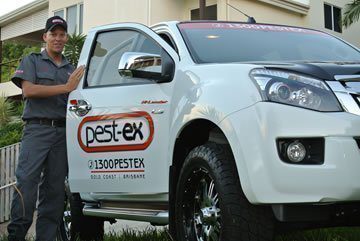 The reason we have thousands of satisfied customers all across Logan City, Brisbane and the Gold Coast is simple:  we provide the very best pest control services and maintain the highest standards of customer care.
Our 100% money back guarantee means that if you're not happy with any aspect of our service to you – from your initial contact with us to the end of the pest control work – we will give you your money back.
Don't delay – contact us today and talk to one of our friendly staff about your pest control needs!