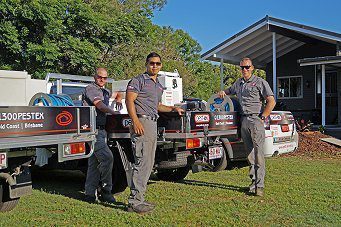 As experienced and highly qualified pest controllers in Browns Plains, Pest Ex is the only choice to keep your home or business pest free.
Our thousands of satisfied customers across the region attest to our high standards of quality workmanship and customer care, and our pest controllers are known as some of the best in the industry, with a high level of qualification and timber inspection certification.  We are fully insured and licensed and offer a 100% money back guarantee on our services to give you ultimate peace of mind.
Don't settle for second best – contact Pest Ex today and let us take care of all your pest control needs.
high quality pest control services
The main focus of our business is the detection, removal and treatment of common pests found in Southern Queensland.  If you're having trouble with any of the following pests in your home or business, contact us as soon as possible for fast and effective solutions:
Spiders, bees and wasps
Ants, flies and mosquitos
Rats and mice
Silverfish, bed bugs and fleas
Midges and biting flies
Termites
Because its warm and humid climate, the Southern Queensland region is prone to outbreaks of nasties throughout the year.  It's a good idea to have a regular pest inspection conducted even if you don't think you have these pests in or around your property as a precautionary measure.
Call us today – we'd love to hear from you!
dealing with termites in browns plains
The realization that you might have a termite issue can come as a rude shock to home and business owners alike.  No one likes the idea of these invasive creatures gnawing away at their property's structure, possibly causing thousands of dollars' worth of damage.   Unfortunately, termites and white ants can be hard to spot and harder to track down to their source without specialised equipment and know how.
Pest Ex has over 10 years' experience in the expert detection and removal of termites.  Our highly qualified timber inspections conduct one of the most rigorous examinations of a property on the market.  Using the latest in high-powered technology, they will look at:
The interior: all timber supports, trusses and beams, window and door architraves, kickboard, cupboards and shirting boards, walls, ceilings and floors.  The roof cavity and any basement areas are examined carefully, including guttering, downpipes, skylights and any vents.
The exterior: our pest controllers will examine all areas around the property, including the soil, trees and shrubs, structures located near to the property such as garages and sheds, fences and walls.

If we find evidence of termite activity, we can then start a thorough removal and treatment process then and there, or can provide a quote for anticipated costs.  We will explain everything in easy-to-understand language so that you know exactly what we recommend for your property.  Our treatments are tailored to your specific problem, meaning that they will be more long lasting and effective than other treatments on the market.  As part of our service, we can also recommend the installation of baits, traps and anti-termite systems such as Sentricon, Homeguard and Exterra as effective deterrent mechanisms for keeping your property free from termites.
If you're thinking of having a new property built in Browns Plains, or considered having an extension put onto an existing building, Pest Ex can help you to make it as termite-free as possible with the latest in termite barrier technology.
So don't leave it to chance – get your property inspected and let Pest Ex stop these nasty pests in their tracks!
Get peace of mind with a pre-purchase inspection
Wouldn't it be great to be able to have x-ray vision and check a property over from top to bottom for issues before you buy it?  While this won't ever happen, Pest Ex provides the next best thing with our complete pre-purchase pest inspections.
Our inspections are designed to be thorough and efficient.  Once you have contacted us, we can normally conduct a same-day inspection of a property in Browns Plains you are considering purchasing.  By using high-tech termite detecting equipment, we conduct an inspection of all areas of the property in question, both inside and out.  We will then provide our findings to you in a simple to understand colour report, which will also have some recommendations for a course of action based on the level of termite activity we discovered.
Don't go into a purchase without knowing the full state of health of the property.  Let the termite experts Pest Ex 'see inside' the property, and help you to make your decision.