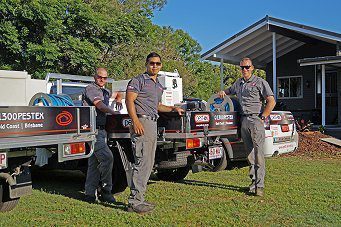 Queensland has its fair share of pests, dangerous or otherwise, and Pest Ex has been helping home and business owners keep their properties safe in the Logan City, Brisbane and Gold Coast areas for over 10 years.
We're locally owned and operated, so we understand and have extensive experience with both the pests found in the region and also the local environment in which they live.  Our highly trained and qualified pest controllers are some of the best in the business, and our pest detection equipment is cutting edge.  We service homes, businesses, educational facilities, retail, office and industrial buildings, and no job is too big or too small for our staff.   We're also fully licensed and insured, and recommended by banks and those in the real estate industry.
So get in touch with us today and let us solve your pest control issues.
Termite and Pest control in cedar vale
If you suspect that you might have a rat living down the back of your property, have a found a few poisonous spiders making themselves at home or have found a bee hive, it's time to call in the professionals.  Many of our customers have tried to treat a pest issue themselves, only to find that they've bought expensive products that don't really work, or have wasted a lot of time with little results.
Pest Ex treats the following pests:
Termites
Spiders
Ants
Bees
Wasps
Mosquitos
Flies
Rodents
And more
We have a decade of experience dealing with these pests, and through correct identification, fast removal and safe and effective treatments, have helped thousands of customers keep their properties free of these nasties.
Our inspections use thermal imaging cameras and moisture detection technology to survey your property, giving us a complete picture of the state of any pest activity that might exist.  In terms of termite activity, this is particularly important, as they tend to make their nests in difficult to find areas such as under floorboards or decking, or in roof trusses.  Once our inspection is fully complete, we can then conduct a thorough removal of any pests and their nests found on site, or can give you a quote for the estimated cost.  Baits, traps and anti-termite systems also be deployed to ensure the ongoing protection of your property.
We are members of the Australian Environmental Pest Managers Association, and all of our treatment products have passed the highest environmental safety standards in Australia.  This means they are completely safe for use around people and animals. So you can rest easy knowing you are in good hands.

get a pest INSPECTION before you buy property
One of the best pieces of advice you can get before considering buying a property is to have a professional pest inspection conducted as part of your due diligence.  Especially in a region such as Southern Queensland, where pests such as termites are a real threat, it's critical to get as much information as possible before signing on the dotted line.
Generally, our pest inspections can be conducted on the same day as requested, and our qualified pest controllers will look at:
Outside of the property, including any landscaping, walls and fencing, soil and trees
The top of the property, including the roof, gutters and pipes
The inside of the property, including door and window frames, ceilings and walls, any timber built in's
The bottom of the property, including sub floors, cellars and crawl spaces
We will then deliver you the results in a detailed but easy to read report, which we will explain to you.  Knowing the levels of pest activity and the extent of any damage to the property will help you make an informed choice.  We also offer a pre-sales pest inspection report, which can be useful to give you and any potential vendors peace of mind when it comes to the state of your property in Cedar Vale.
the pest ex guarantee
We're fully committed to providing the very best service we can, so we offer all our customers a no questions asked, money back guarantee on our work.  You can rely on us for prompt and friendly customer service, as well as the highest professional on-site service.
So talk to the pest controllers you can trust – contact us today!