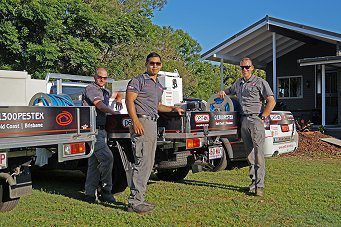 Pest Ex is one of Logan City's leading pest control companies, with dedicated staff servicing home and business owners in Daisy Hill.
We offer the most comprehensive pest control and termite treatment solutions in the region, and our same day service, highly trained pest controllers and exceptional customer service have made us the number one choice for thousands of customers.  We're recommended by banks and real estate experts, and we have experience dealing with all types of residential, commercial and industrial problems – from one off removal of pests and annual inspections to ongoing management and larger projects.
Contact Pest Ex today to talk to us about your pest control needs!
safe and environmentally friendly pest control
The heavily forested areas in Daisy Hill are a haven for wildlife, but also for pests that can invade a property and make themselves at home.  Many can make life difficult for you and the occupants of your property, posing a health threat, but also in the case of termites, potentially causing damage to buildings, outdoor landscaping and gardens.
Our focus is on the complete eradication of pests and the future protection of your home or business, in the safest and most environmentally friendly ways possible.  We are members of the Australian Environmental Pest Managers Association, and our treatment products and pest solutions adhere to the strictest safety standards set out in Australian standards.  This means that when we treat your property, it will be safe to re-enter the buildings and resume normal activities for both humans and animals.  It also means that we will make as minimal impact on the local flora and fauna as we can.
The range of pests we treat includes:
Wasps and bees
Ants and flies
Spiders and mosquitos
Rats and mice
Termites
Bed bugs and fleas
Silverfish and midges
Getting fast and effective professional treatment for any of these pests is important to ensuring the well being of you, your family and those living or working on your property.  Contact us today to ask about our safety record and our focus on environmentally friendly solutions.

TERMITE TREATMENT SERVICES in daisy hill
Using our termite detection and treatment services in Daisy Hill is the most effective way to help keep your home or business safe from these invasive and destructive pests. This is because our methods are the most thorough on the market, and our highly certified timber inspectors and the cutting edge technology we use makes us the leaders in the industry.
Our termite inspections involve a visual investigation as well as using technology such as moisture detection and thermal imagery to create a complete map of the activity you may have in and around your property.  The problem with termites is that are very good at staying 'under the radar', using subterranean passages to enter a building, and hollowing out any timber structures they may come across, leaving a thin outer shell to protect them from predators (and from easy detection).
We leave nothing out from our inspection – from the top of the roof down through the main rooms and down into the basement areas.  We also check outside to look for signs of entry as well as live nests in areas such as tree stumps, drainage, soil and fences.  Once completed, we will then set about the total removal and treatment of the affected areas.  If you prefer, we can provide a quote at this stage for any work that we recommend as necessary.  We can lay downs traps and baits, as well as anti-termite systems popular on the market such as Exterra, Sentricon and Termidor.  For extra protection, we can also provide termite barriers for post and pre-construction buildings.
get professional pest control now
If you think you might have a pest issue in Daisy Hill, don't put it off or think the problem might just take care of itself.  Pests will very rarely leave once they have settled in, and leaving it till later can make a relatively small, easy to fix mess into a much bigger, costlier one.
Pest Ex offer a 100% money back guarantee on our services, so you'll know you're in safe hands when choosing us to be your pest control solution.  So call us today – we're looking forward to talking to you!