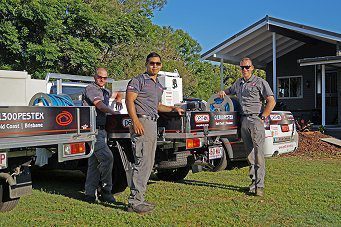 Pest Ex delivers high quality, professional termite treatment services and pest control to the Logan City area and specifically the suburb of Eagleby.
With a dedicated and committed group of well trained and fully licensed pest control specialists, Pest Ex can ensure that you get the best result possible – the full removal of pests from your property and a thorough treatment of all affected areas so that they do not return.  Our focus on developing strategies with our clients to managed pest and provide ongoing prevention is an important part of our work to guarantee that your property stays pest free in the future.
Pest Ex follows the strict safety guidelines as detailed by Australian Standards and all of our products are environmentally friendly.
To make sure that your property is free of potentially damaging pests, call us today and arrange for one of the Pest Ex team to provide you with an obligation-free quote.
Eagleby TERMITE TREATMENT SERVICES
With the lovely weather that Queensland is known for, it can also get very hot and humid at times, which provides an ideal environment for pests such as termites and white ants to thrive.  The dark, damp crevices of your property are a fertile breeding ground for infestations which can occur quickly if your home is not properly protected.
The state of the art tools that our technicians make use of, and our vast experience and knowledge of the Eagleby area helps put Pest Ex at the forefront of pest control in the entire Logan City area.  We pay attention to those often hard to reach locations like under the property, inside the walls and in the roof cavity using the latest technology such as radar, thermal imaging and moisture detection to detect live nests and infestations of termites.
The inspection report that we deliver you is detailed and thorough.  Our staff also arrive onsite prepared to treat and remedy any problems that we discover.
The termite treatment and management service we offer consists of:
Pre-construction and post-construction termite barriers
Termite baits, traps and other deterrents
Implementation of advanced anti termite systems such as Sentricon, Exterra, Termidor, Biflex and HomeGuard
Routine, ongoing management involving regular checks for prevention, protection and removal
If termites are a concern for you and your property or perhaps you'd just like regular inspections and preventative maintenance work done, give us a call.  We generally offer same day service for all jobs, big or small.

Do You Need Pest Control In Eagleby?
Aside from the termite treatment and prevention work that we do for our customers in Eagleby, we are also a full service provider for other pest treatment services.  Our pest controllers routinely work on commercial and industrial properties as well as residential homes.
Our team is able to deliver removal and treatment for the following pests:
Spiders
Wasps, bees and mosquitos
Flies and midges
Cockroaches and ants
Silverfish
Rodents, including rats and mice
Fleas and bed bugs
Plus, a wide range of other local pests
It can be disconcerting for a property to owner to think that they may have an issue with pests, particularly if it is a residential property that is home to children and pets.  Due to the climate and diversity of the area, there is a vast array of pests that can not only damage your property and structures, but also bring harm to your loved ones.  Engaging a reliable, professional organisation like Pest Ex to deal with these issues will help keep your family and your property safe.
The Pest Ex Money Back GUARANTEE
Our record and history of delivering top quality pest control services to our clients is unparalleled, and to ensure that you are satisfied, we offer a no questions asked, money back guarantee on all of our services.  If you're not happy, call us and let us know and we'll sort it out for you.
Contact Pest Ex today to work with the most experienced and professional company in the Eagleby area and let us show you what makes us the best!