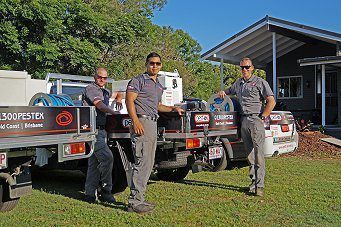 Pest Ex services the Edens Landing area and surrounding suburbs with high quality pest and control and termite treatment solutions.  Pests are a natural part of our environment, however when they stop you from doing what you enjoy, compromise your property's structure, or even put you or your family in danger, it's time to seek professional help.
Our pest control services are designed to be efficient, safe and long lasting.  We have over a decade's experience in the industry, and thanks to our dedication to our work, now have large numbers of happy customers in the Brisbane, Gold Coast and Logan areas.  For your convenience we provide no obligation quotes, and we'll explain everything in layman's terms so you know exactly what is involved.
Getting professional pest control help is easier than you think.  Just pick up the phone and let us take care of the rest!
Fast and safe pest TREATMENT in Edens Landing
We're all used to having to swat mosquitos when the weather gets warmer, or finding one or two spiders in our homes.  However, what happens if you find that the spiders are actually deadly red backs, and you might actually have an infestation of them?  No matter the type of pest, dealing with it on your own can be time-consuming and costly, and if you accidentally use the wrong treatment or misidentify the species of pest, you might be doing more harm than good.
Pest Ex has experience dealing with a large number of pests that are common to the Edens Landing area.  These include:
Crawling insects – ants, spiders, cockroaches and silverfish
Flying insects – flies, midges and biting flies
Stinging insects – bees and wasps
Blood sucking insects – fleas, bed bugs and mosquitos
Rodents – rats and mice
Our highly trained and qualified pest controllers can generally be on site the same day as you contact us, and we will assess the issue you're having, tracing the pest back to its source if possible.  We service both residential and commercial properties, and can tackle any sized job – from the one off pest inspection to a large pest management project.
Contact Pest Ex today – we're looking forward to your call!

SPECIALISED TERMITE TREATMENT SERVICES IN Edens Landing
Apart from general pest control, Pest Ex specialises in termite detection, removal and treatment services in Edens Landing.  Termites and white ants can be highly destructive if left untreated for any length of time.  For most property owners, checking for these pests is beyond their expertise, and without the right equipment they could be missing entire colonies of termites inside their walls, ceilings or in the roof space.
The certified timber inspectors at pest Ex have been professionally trained to seek out any termite activity, no matter how hard it is to locate.  During a termite inspection, we use highly advanced technology such as thermal imaging and radar to locate live nests and infestations.  Before removing and treating the affected areas, we will explain the process to you and provide you with an on-the-spot quote for the costs involved.
We understand that while you want the termites fully treated, you also want the property to remain safe for you, your family and anyone living or working there.  Our termite treatments are completely safe and have passed rigorous safety standards.
We also provide:
Termite baits, traps and deterrents
Anti-termite systems
Advice and ongoing pest management
Termite barriers for new builds
Annual termite inspections
Pre-sales and pre-purchase pest inspections
Don't leave it until it's too late – contact us today for your free, no obligation quote!
Why work with pest ex?
Over the course of ten years Pest Ex has developed a reputation for exceptional quality work and customer service.  Let's look at why our customers recommend us, and leading banks and property experts suggest that their clients choose us:
Our services are all back by a no questions asked, 100% money back guarantee
We service residential, commercial and industrial properties, and work in a range of industries including education, hospitality and retail.
We use environmentally-friendly treatment products and are registered members of the Australian Environmental Pest Managers Association
We can generally offer same-day on site service
Our pest controllers are highly qualified and experienced, and always polite and helpful
Our pest control services are the very best – contact Pest Ex today and find out how we can help you!