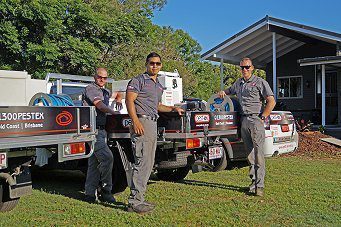 Pest Ex's premier pest control and termite treatment services are available in Flagstone and the greater Logan city region.  We offer the very best pest detection, treatment and management in the area, and can work with both home and business owners to keep their properties as pest free as possible.
Pests are an everyday part of life, but when they start to become more than an inconvenience – for example, stopping you from doing every activities or being a harmful presence on your property – it's time to call in the professionals.
Our services our recommended by banks, conveyancers and real estate experts, and we have thousands of customers right across Southern Queensland, with word of mouth referrals coming in every day.
Choose the best in pest control in Flagstone – call Pest Ex today!
pest ex's pest control services in flagstone
Our pest controllers are highly qualified and trained to deal with the many pests that Queensland has to offer, from spiders, bees and bedbugs to rats and mice.   Instead of just providing a 'one size fits all' approach to pest control, they will take the time to correctly identify the pest in question and figure out the best solution to help eradicate the problem and protect your property in the future.
Our services in Flagstone include:
Regular pest inspections for all types of properties such as houses, units, offices and shops, education facilities, restaurants and retail outlets
Pest detection, identification and treatment
Termite inspections and treatment
Termite baits, traps and anti-termite systems
Pre and post construction termite barriers
The use of the latest in high tech detection equipment, combined with our extensive building examinations make our pest inspections the best on the market.  We don't just look at the main rooms and spaces in your building, we examine all areas including the roof and the roof cavity, walls and floors, inside timber cabinetry and cupboards, under the property as well as all outside areas such as trees and soil.
Pest removal and eradication is fast, effective and above all, safe.  We are not only dedicated to protecting the natural environment and local flora and fauna, we're committed to using the safest products on the market.  These have passed rigorous Australian guidelines and are the best solution to keeping your property pest free while still leaving it safe for all occupants (including pets).
Don't just assume all pest control services are the same.  Choose the company that thousands of happy customers have used – call Pest Ex now!

pre-PURCHASE pest inspections in Flagstone
When you purchase a new property, the last thing you want to find is that it is riddled with pests or even that there is significant pest damage that you were not aware of.  The only way to prevent this is to have a professional pest inspection done before you sign the papers.
Pest Ex's pre-purchase pest inspections are popular among potential vendors because they are recommended by financial institutions and experts in the real estate industry.  We also offer the most comprehensive but efficient inspection on the market, giving you all the relevant information you need to know in a handy report within a day of our visit.  We can generally fit in around your schedule, and can do same day inspections on the property you are interested in.
Our findings will take into account our review of every part of the property, inside and out, including signs of current pest activity and any previous damage that might exist.  We also provide recommendations for potential treatments based on what we discovered.  Our report is written in plain English, and includes colour photographs so you can clearly see the examples we might find.  Many times we can give the property a completely clean bill of health, giving potential buyers total peace of mind when they come to make their purchasing decision.
rest easy with our 100% money back guarantee
Whether you're looking for a one-off pest inspection, need us to come remove a troublesome wasp's nest, or looking for a longer term pest solution, our goal is give you the very best service and customer care.
If you're not totally satisfied with any aspect of our work, then we will give you your money back, no questions asked.  This is just a part of our focus on providing top quality services for everyone.
Contact Pest Ex today for all your pest needs – you won't be disappointed!