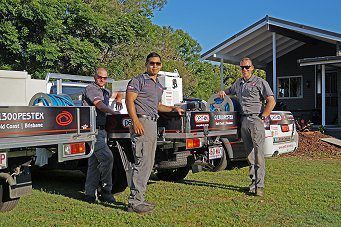 Pest Ex is the leading provider of pest control solutions across the Logan Village region.  We offer a wide range of services, and our professionalism and reliability have made us the number one choice for thousands of customers across the Southern Queensland region, including Brisbane and the Gold Coast.
We offer pest control services for the following pests:
Termites and white ants
Ants and cockroaches
Spiders
Mosquitos, biting flies and midges
Flies, bees and wasps
Silverfish
Rodents
Fleas and bed bugs
We can take care of any nasty bug or insect that is causing a nuisance in and around your property.  One of the advantages to choosing Pest Ex is that we can service homes and businesses, and we have a range of clientele, from home owners, retail and education facilities, restaurants and cafes, office buildings and commercial premises.
So if you're looking for effective pest control services in Logan Village, contact Pest Ex today!
Logan Village Premium termite treatment services
It's frightening just how destructive a small colony of termites can be, let alone a large infestation of them.  Termites can rapidly eat the insides out a timber framed structure, only leaving a thin outer layer of wood, by which time it is too late to save its integrity.  Having an annual inspection for termites if you're in the Logan Village area can help protect your property from these pests.  However, if you feel that you may already have termites on site, it is critical that you call in professional help as soon as possible.
Our termite detection, eradication and ongoing management solutions are the best in the industry, thanks to a combination of our years of experience, our local knowledge and our use of the very latest in technology.

When you book an inspection with us, we will send our highly trained and certified timber inspectors to search for signs of termite activity and any nests using equipment such as thermal imaging cameras.  If activity is found, after providing you with a no obligation quote for the work, we are equipped to eradicate and treat the issue on the spot.  Speed is important to prevent any further damage being done to your property, however it is also critical to ensure all termites, nests and associated debris is destroyed properly.  To ensure a thorough job, we can provide the following
Baits and traps
Anti-termite systems such as the popular and effective Biflex and Homeguard systems
Ongoing monitoring and management of termites
We also offer professional advice on ways to protect your property, as well as the provision of termite barriers during the building phase for new properties.
Our termite treatment solutions are recommended by those in the finance and property industries, and we are the number one choice for thousands of customers.  So call us today and find out how we can help you protect yourself against termites.
pre-purchase and pre-sales pest reports
You have probably heard about getting a building inspection report created if you're thinking of buying a property, but have you heard of a pre-purchase pest inspection report?  These are similar to building reports, except that they involve checking a property for signs of pest activity and damage.  They are important to have done before you sign on the dotted line because pests such as termites can be hard to spot at first glance – you don't want to buy a home or business only to discover that the place is riddled with these nasty insects!
Pest Ex can provide a prompt and efficient on site inspection (generally on the same day) which will encompass checking all areas of the property in question, from top to bottom.  Our professional pest controllers will also carefully examine any outside areas and structures for activity and signs of previous damage.  Once completed, we will then document our findings from the inspection in a 14 page colour report.  This will include photographs of anything we may have found and general recommendations of the best course of treatment.
Don't get caught out and buy a property you may have to spend thousands on in the future – get peace of mind with a pre-purchase pest inspection.
the pest ex guarantee to you
Much of our work comes through word of mouth recommendations and referrals.  This is because we meet and beat the very highest expectations of our customers.  We offer a 100% no questions asked, money back guarantee on all of our services to demonstrate our dedication to excellence.
So get in contact with us today, and find out how we can help you!