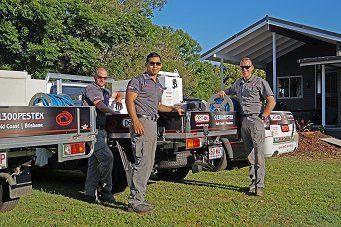 Pest Ex is the leading provider of pest control and management services in the green suburb of Loganlea, with thousands of customers and experience going back over a decade in the industry.
Our pest controllers are highly trained and qualified, and no job is too big or small when it comes to protecting your home or your business from nuisance and dangerous pests.  The range of common pests we cover includes:
Spiders
Bees and wasps
Ants
Mosquitos
Flies and biting flies
Fleas
Bed bugs
Termites
Rodents, including rats and mice
We are happy to arrange a no obligation quote before any work is carried out, and will always explain our processes to you in easy to understand language.  We're as proud of our pest control work as our high customer service standards, so contact us today and let us take care of your pest needs.
termite infestations in loganlea
Did you know that the Southern Queensland area is a known habitat of termites and white ants?  The warm climate, combined with the predominance of timber structures in the region mean that termites can be found just about anywhere, including in Loganlea.
Property experts recommend that you have a termite inspection of your home or business on at least an annual basis.  If you do spot signs of suspected termite activity, you should contact a professional pest controller as soon as possible.  This is because termites can breed and work quickly, going from a small colony to a large infestation in just a few months.  The damage they can do to unprotected timber such as a beam or joist can leave it weakened and in some cases ruined beyond repair.
A Pest Ex termite inspection will detect any signs of activity using high tech equipment, and will encompass:
The interior of the property including the living and/or working areas: the roof structures, guttering, ceilings and walls, floors and floor joists, skirtings, architraves and frames
The exterior of the property: any landscaping, retaining walls, soil, tree stumps and trees, structures such as carports
If we have found anything during the inspection, we will then quote you for the complete removal of the pests and treatment of the area.  We are equipped to remove any infestations we find on the spot, and use only environmentally friendly products to ensure your safety.  We also provide baits, traps and anti-termite systems such as Biflex, Exterra and Homeguard.

thinking of buying a property?
When you're thinking of buying a property you may not necessarily think of getting a pest inspection report done before you make an offer.   Leading financial institutions and property experts suggest that you do, however, as part of a proper due diligence process. Termite and white ant activity is unfortunately not always visible to the naked eye, and it takes a trained and certified professional to be able to detect these pests properly.
A pre-purchase pest inspection can give you peace of mind in relation to to whether there is pest activity within the property or its surrounding areas.  Pest Ex can conduct inspections on residential and commercial properties, and we provide an in-depth report with photos after our inspection is complete which will document our findings.  We also provide easy to understand recommendations for potential treatment options, depending on the extent of the issue.
Our service is efficient and prompt, and generally we can conduct a pre-purchase pest inspection on the same day as you contact us, and the report within 24 hours.  Book a pre-purchase pest inspection with us today if you're thinking of buying property in the Loganlea area.
Our guarantee to you
When you're having pest issues – big or small – or need someone to check over a property you're thinking of purchasing, you want fast, thorough and professional service.  Our track record over the past ten years is impeccable, with more and more customers recommending us to their friends and family every day.  To show how dedicated we are to our work, Pest Ex offers a no questions asked, money back guarantee on all of our services. Our goal is to exceed your expectations and give you the highest quality pest control treatment and ongoing management in Loganlea.
Call us – we'd love to talk to you today!