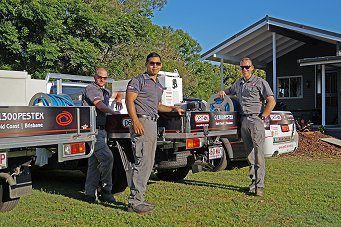 Finding professional pest control in the leafy suburb of Regents Park is easy with Pest Ex as your local service provider.
We are the leading pest controllers for homes and businesses right across the South-East Queensland region, with 7,000 satisfied customers and a reputation for the very best quality on-site work and customer service.
The region is a haven for pests in all shapes and sizes, some more dangerous than others.  In Regents Park we treat:
Termites
Spiders
Ants
Flies
Mosquitos
Bed bugs
Fleas
And other pests
A change in seasons can bring out a host of new pests that will be looking for a new home to settle in.  Contact us today for a routine inspection or get us in to take care of any pest problem you may be experiencing.
regents park PEST CONTROL & TERMITE TREATMENT SERVICES
There is a reason why we are the pest controllers of choice for home owners and those in industry sectors such as hospitality, retail and education – we offer the most comprehensive inspections and treatments, as well as the most experienced pest controllers in the business.
Once you have made contact with us, we can generally provide on site service the same day, and our friendly technicians will conduct a thorough inspection using specially designed high-tech equipment.  After the inspection has concluded, we will then be able to assess the extent of the pest activity, remove any evidence of infestations and carry out treatment as necessary.  If you prefer, we can give you a quote for the work we recommend be carried out.
Other pest control services include:
Baiting and traps for termites
Anti-termite systems such as Homeguard and Sentricon
Termite barriers for buildings, pre and post construction
Advice on pest management
Regular pest inspections
We're locals, so we understand the need to keep our precious wildlife and nature as pristine as possible. Our treatment products have passed rigorous Australian safety standards, and we adhere to all environmentally friendly guidelines for the treatment of pests.  Once we've treated your property, it will be safe for all occupants, including pets.

Valued pre sales PEST INSPECTIONS
Before you consider purchasing a property in Regents Park or the greater Logan City area, it is recommended that you get a comprehensive pest control inspection report as part of your pre-purchase checklist.  A pre-purchase inspection report is a great way to deliver peace of mind before making such a significant investment and can also save you time and stress in the future.
The Pest Ex team is fully qualified to undertake and deliver pest inspections because all of our staff receive exceptional training and use the latest technology.  As a result, all of the work we carry out is completely insured and meets the necessary guidelines and licensing requirements as defined by the Australian regulating authorities.
Our pest control technicians will give your property a thorough going over while paying attention to areas of known activity for pests such as the walls, cavities, joinery and timber structures.  When we're done, you'll receive an easy to understand, plain English, 14 page report that will contain any pest activities discovered along with pictures and recommendations within 24 hours of when we carried out the inspection.
Once the report is complete, we are available to discuss it in person or over the phone, whatever is most convenient for you.
Having completed hundreds of pre-purchase and pre-sale pest inspections in the region, we have the experience to make sure that the property you're looking to buy is pest free and safe for you.
The pest ex guarantee to you
If you're not happy with any part of our service, just contact us and we'll refund your money, guaranteed.  For over a decade we've prided ourselves on our superior workmanship and our professional attitude – it makes us stand out from the crowd.
When you work with us, you'll find that:
We are prompt, and can usually help you on-site within the day
Our pest controllers are highly qualified and experienced with all types of pests and pest issues
We're recommended by conveyancers, real estate agents and leading banks
Our products are environmentally friendly and safe
We stock a large range of the most effective pest and termite treatments
So if you're having a pest problem in Regents Park or just want to get peace of mind that your property is pest free, give us a call today!