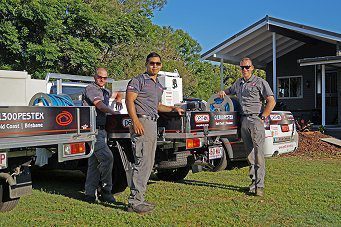 Pest Ex has over ten years' experience providing high quality professional pest control services to Southern Queensland, including the Brisbane, Gold Coast and Logan regions.  Our reputation for exceptional customer service and our on-site workmanship is second to none.
We offer a range of pest control services in Shailer Park, including:
Thorough pest inspections and pest reports
Regular inspections for residential, commercial and industrial properties
Specialised termite inspections, treatment and ongoing management services
Pre-sales and pre-purchase pest inspections and reports
Pest control for new builds and renovations
Our pest controllers are some of the most qualified and experienced in the business, and we are fully equipped to be able to remove and treat any pests we might find on the spot.  As anyone who has had a pest infestation will agree, having the problem taken care of the same day will help to put your mind at ease and is the best way to ensure the safety of you and your family.
Contact us today to find out how we can help solve your pest control issue!
fast and effective pest control in shailer park
Pest Ex offers the most complete pest inspections on the market, and we will not only identify the type of pest you might be having a problem with, but also locate their source.  This means that our treatment solutions will not only remove the pests and any nests, but also ensure that they are deterred from returning to your property in the future.
The climate and leafy environment in and around the Shailer Park area provides an ideal breeding ground for a number of nuisance and dangerous pests, including:
Termites
Spiders and ants
Flies, midges and mosquitos
Silverfish, bedbugs and fleas
Bees and wasps
If you are having trouble with any of these pests in your home or business, call Pest Ex to let us handle the problem quickly and effectively.

do you have termites in your property?
It might surprise you to find out just how many properties in the Southern Queensland region have experienced a termite issue or even a wide scale infestation in the recent past.  These nasty pests thrive in the semi-tropical climate and seek out timber and wooden structures for their food and their nests.  Unfortunately, they can quickly multiply and can cause costly damage to a property if left unchecked in just a few months.
Pest Ex provides a tailored and comprehensive termite inspection service for homes and businesses in Shailer Park.  Our certified timber inspectors use advanced detection equipment such as thermal imaging to provide a detailed snapshot of activity and live nests.  Our inspections take into account all areas of your property – from the gutters, downpipes and skylights to the internal rooms, walls, ceilings and flooring, to the basement areas.  We also scan any outdoor areas, including the soil, trees and shrubs, any landscaping, walls and timber fencing.
Once our inspection is completed, we can then immediately treat and remove all termites and nests, or give you an on the spot quote for the work if you prefer.   We can also provide termite baits and traps and popular anti-termite systems such Exterra, Homeguard and Biflex.
If you're thinking of renovating, building a new extension or even a new property, Pest Ex can also help secure the building against termites with specially designed cutting edge barriers.
So talk to us about all your termite needs – we'd love to help you!
your safety is our number one priority
Our treatment solutions are designed to be the most effective on the market, but also some of the safest.
All of the products we use on a day to day basis have passed rigorous Australian safety standards and are environmentally friendly, meaning that they are safe for humans and pets, but also are kind to the local flora and fauna.  Pest Ex is proud to be a member of the Australian Environmental Pest Managers Association.
don't delay – get professional pest control today!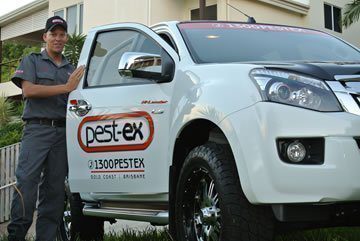 Many of our customers tell us that they tried to solve their pest problem by themselves, but either ended up spending a lot of money on pest control treatment products that didn't work or they found that the pests returned almost immediately.  If you do find yourself surrounded by unwanted creepy crawly guests or worried that you may have a pest infestation on your property, the best idea is to call in the professionals as soon as possible.
We offer a 100% no questions asked, money back guarantee on our work, so if you're not happy then we're not happy, and we'll refund you in full.
Don't put it off any longer – contact Pest Ex today and get rid of those pests for good!