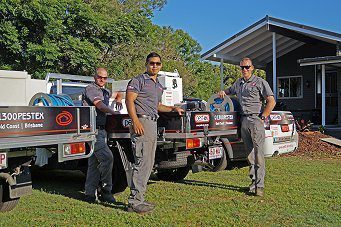 Do you need the services of a pest controller in Woodridge?
We are the leading provider of pest control and termite treatment services in the Woodridge and greater Logan City region.  With over 10 years' experience and over seven thousand customers across Southern Queensland, Pest Ex are the professionals you can count on.
We work with all types of property – from apartment blocks, houses and townhouses, to offices, retail outlets, hotels and motels, shopping centres and schools.  We are also able to provide a full range of pest control services to industrial properties.  Our flexibility means that no job is too big or too small, and our friendly and prompt pest controllers are able to handle any issue you might be having.
Our staff are also well trained and certified timber inspectors (Cert 3 – Pest management technical).  This means that they are experts at detecting, identifying, eradicating and providing ongoing management of any nuisance or dangerous pests.  Our detection technology such as thermal imaging is cutting edge, and means that we can see into parts of your home or your business that would otherwise remain hidden.
So if you've spotted a few unwelcome guests in or around your property, give us a call and make an appointment today.
pest control SERVICES we provide in woodridge
Our pest control services run from regular inspections and one-off jobs to larger treatment and management solutions and pest-proofing projects.  In Woodridge we can treat all types of local pests including bees and wasps, spiders, ants, rodents such as rats and mice, insects such as fleas and bed bugs, mosquitos, flies and midges.
Termites are a particular problem in regions such as Logan City because of the local climate and areas of natural wilderness.  They are drawn to areas where they can find their food sources easily, including timber, plant material and even paper, and can infest a building quietly and quickly to make their nests in dark and hidden locations.
Luckily, we have the experience and the means to seek out pests, no matter how well concealed they may be.  Our inspections have a reputation for being the most thorough on the market.  We examine:
Outside areas around the property: this can mean looking at trees and shrubs near to the building, tree stumps, sheds, garages and other structures, landscaping features
Inside the property: we go from top to bottom, in cellars or basements, walls, floors, ceilings, window and door surrounds, cupboards and cabinetry, up into the roof cavity, trusses and beams, guttering, downpipes and vents
When we've gotten a complete picture of the state of the pest activity in your property, we can then either remove the offending pests then and there, or give you a quote for the work if that's preferable.  To ensure our work causes you as little negative impact as possible, we will explain each step in the process to you, and complete our treatments as quickly and efficiently as possible.

Get peace of mind with a pest inspection before you buy
Buying a property, whether it's your home or a business, can be a huge investment.  You want to make sure you're as fully informed about the state of the property as possible – this is where a pest inspection can come in handy.  Our inspections give you unprecedented access into the very structure of the property you're considering, and lets us see exactly what nasties might be lurking in the corners.
Once you've contacted us to arrange an appointment, we can usually come out on the same day.  We'll conduct our inspection, and then provide you a 14-page colour report with photos around 24 hours later.  We will explain the report to you, and make sure you understand all the terms and the treatment options we may suggest.
Our pre-purchase pest reports are recommended by leading financial institutions and conveyancers.  So if you're thinking of buying a property in Woodridge, order one today and give yourself an edge over the competition.
your safety is our priority
You want your pest treatment to be as effective as possible, but also safe for everyone who might live or work in the area.
We not only make sure that our inspections and treatments impact you as little as possible, we also take your safety very seriously.  Our products – the best in the industry – have passed strict Australian safety guidelines.  This means that when we've treated our property, it will be safe for all of the occupants, whether they're adults, children or pets.
Call us for an appointment – you won't be disappointed!