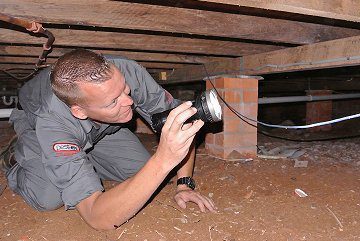 If you want professional pest control and termite treatment solutions in Kingscliff, then choose Pest Ex.
We've worked in and around the Tweed Head's region for over ten years, and have built a substantial customer base in the area thanks to our outstanding reputation.  Our dedicated and qualified pest controllers ensure that our customers get the very highest standards of on-site work and customer service, every time.
We're sticklers for safety in everything we do, and our products have all passed Australian safety guidelines.  The chemicals in our treatments are safe to use around children and pets, as well as the environment.
If you've got a pest problem in Kingscliff, let Pest Ex take care of it for you.  Call us today!
TERMITE TREATMENT SERVICES IN kingscliff
Termites can be a costly and challenging problem for home and business owners alike.  These pests will be attracted to any kind of timber, regardless of whether it's a freestanding house, floorboards in an office building or the roof of a factory.  They can enter a building unseen through its foundations, and are such fast breeders that in just a few months a small colony can turn into a widespread infestation.
Our termite treatment services are as follows:
Regular termite inspections: Prevention is always better than cure, especially when it comes to termites.  We offer regular termite inspections for residential and business owners to keep an eye on the state of pest activity in your property.
Termite detection, removal and treatment: If you suspect you may have an issue with termites, we'll come and conduct a rigorous inspection using state of the art technology such as moisture detection and radar to seek out live nests.  Once discovered, we're then equipped to completely remove any pests on the spot and treat the areas with effective chemicals to ensure all termites are destroyed.
Termite traps, baits and deterrents: we carry a wide range of professional termite baits and termite prevention measures such as Exterra, Sentricon and Termidor.
Termite barriers: termite barriers – both physical and chemical – can be a great way to protect you property over the long term. Physical barriers can be installed on the foundations of a building during its construction, while chemical barriers can be used at any time.
Because of our years of experience, no job is too complex or too small for us.  Once you've booked an inspection, we will turn up on site to assess your specific needs and give you an estimate for the cost of the work.  We'll be fully equipped and ready to rid your home of these nasty and invasive pests.

do you need pest control services?
Apart from specialised termite detection, removal and treatment, Pest Ex also offers general pest control for a wide range of common pests in Kingscliff.
Once some pests move into a property, it can be difficult to eradicate them, especially by just using DIY over the counter treatments.  Only professional pest controllers will be able to correctly identify the species of insect and tailor the treatment accordingly, making it 100% effective.  Thanks to high tech equipment such as the thermal imaging cameras we use, we can also see into areas that others can't, giving us total access to a building, inside and out.
We treat:
Spiders and ants
Cockroaches and fleas
Flies, biting flies and midges
Rats and mice
Bees and wasps
And many more
No matter whether it's crawling, flying or hopping, we'll find the source of the problem and treat the area to ensure the pests don't return.  Some treatments may require multiple site visits, and we'll let you know all the steps in the process when we give you a quote before starting any work.
Don't wait any longer – call us today and say goodbye to your pests!
Pest Ex's guarantee to our customers
We offer a money back guarantee to all of our customers, so if you're not happy with any part of our work for you, just let us know and we'll refund 100% of your money, with no questions asked.
We're proud of our reputation and strive for the utmost professionalism in everything we do.  So contact us for all your pest control and termite treatment needs today!