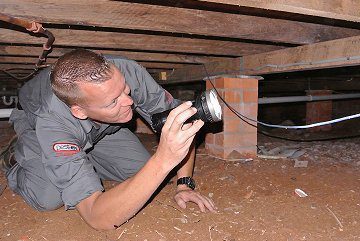 With a dedicated team in Murwillumbah, Pest Ex is Tweed Heads' most trusted pest control company.  We've worked in and around the area for over a decade, and have thousands of loyal customers who use us for everything from regular pest inspections to pre-purchase inspection reports and long term termite management.
Our business is flexible in that we work with both home and business owners, and we can service a range of different property types, including units, houses and townhouses, office blocks and restaurants, schools and daycare centres.  Because of our experience and local know-how, we are able to provide assistance for one-off simple jobs as well as larger, more complex pest control management.
Our pest controllers are extremely knowledgeable, and are highly trained and qualified.  Our skill and professionalism has given us the best reputation in the industry, and our faultless customer service makes us the favorite for property owners everywhere.  Here are just a few of the other reasons our customers choose us over our competitors:
We provide free quotes before starting any work, meaning you're not under any obligation to use us unless you're 100% happy with the price
We can generally provide same day service
Our treatment chemicals are safe for use around children and pets, as well as the environment
We offer a money back guarantee on all of our work
We are completely insured and licensed
Experts in the real estate and finance industries recommend us
So if you want reliable and expert pest control and termite treatment services in Murwillumbah, it's as easy as contacting one of our friendly staff today!
do you have pests in murwillumbah?
Known for its natural beauty and easy going lifestyle, Murwillumbah is a fantastic place to live.  However pests can lurk in even the most idyllic habitats, and the area is a well-known hot spot for a range of nasty insects including spiders, mosquitos and termites.  Other common pests we treat include:
Ants
Flies and biting flies
Bed bugs and fleas
Rats and mice
Silverfish
Bees and wasps
Every pest requires a different pest control approach, and we're often called out to properties where people have attempted a DIY solution, only to find that it hasn't worked and they've wasted time and money.  Our experience and depth of knowledge makes us the only choice for 100% eradication of pests and complete peace of mind.

fast and effective termite treatment services
Termites can be one of the most destructive pests because of their fast rates of breeding and insatiable appetite for timber and related products.  Even seeing one or two of these pests around your property should be a cause for alarm, as it's likely there is a live nest nearby, and nests can quickly turn into a uncontrolled infestation.
Pest Ex has provided professional termite treatment and management services to the local area for over ten years.  We're experts at the detection, removal and treatment of these pests, as well as management solutions to keep your property safe over the long term.  We understand the importance of safety to you, and all of our treatments follow the strict Australian standards on safety and have been certified as environmentally-friendly.
Our use of high tech equipment such as radar and thermal imaging cameras means we can conduct the most thorough pest inspection on the market.  Once you've booked an appointment with us, we'll attend your property and examine:
The interior of the building: all walls, ceilings, floors, timber cabinetry and in-built cupboards, architraves and skirting boards.  We'll also look in the roof cavity, gutters and any skylights, and the bottom of the property in areas such as the basement, cellar, crawl spaces or underneath decking
The exterior of the building: the soil, drains, trees and tree stumps, fences and walls, timber structures and features
Any termite activity or live nests can be taken care of on the spot, and the affected areas treated to ensure all termites are eradicated.  We also offer termite baits, traps and popular anti-termite systems such as Exterra and Termidor to ensure your property remains termite free.  Termite barriers can be a cost effective solution to maintain a pest free property over the long term (up to ten years), and they can be installed pre and post construction.
Ready to Work with Pest-Ex?
Our services are both safe and family-friendly for your property or home. We provide a range of commercial and residential pest control applications right across Tweed Heads in premises that include homes, offices, restaurants and hotels.
For the best pest control and termite treatment solutions in Murwillumbah, contact us today