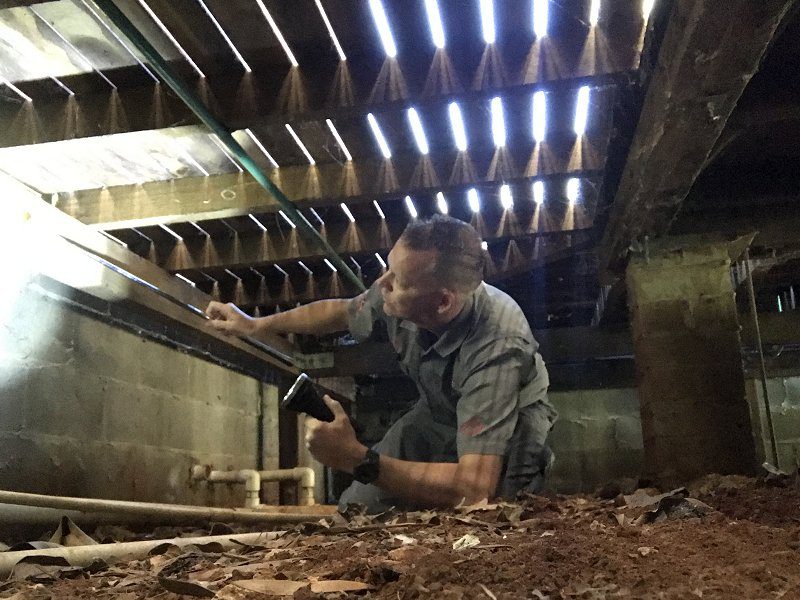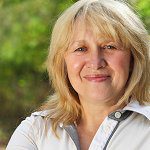 Beenleigh resident, Carole asks
"We're going to organise a termite inspection soon and would like to know how pest controllers check for termites? What's involved in a termite inspection? What are you looking for?"
We get this question quite a lot Carole. Our termite inspections whilst straight forward, are very thorough. Let's have a look at what's involved, the type of equipment we use, how long they take and what we do.
A typical termite inspection begins with a visual examination. We first inspect all the accessible external areas of the property. This includes fences, wall edges, the slab edge, decks, steps, landscaping timbers, retaining walls, stumps and any other areas that are in direct contact with the ground.
Essentially we're looking for evidence of termite damage, or activity that'll provide us with information about potential entry points to the home.
If we do find evidence of termites within say, a tree stump, we'll pierce it with a knife or a screw driver and pull back the mud trail to expose termites that might be inside. We also use rodding tools or a small pick, but the objective is to determine if there are live termites inside, or if it's old damage.
The management standard for termites introduced by Standards Australia in 2018 requires us to first do a non-invasive standard termite inspection. If we confirm evidence of live termites we will perform a special purpose inspection using radar or camera technology to determine the extent of the problem, and what type of termite we're dealing with.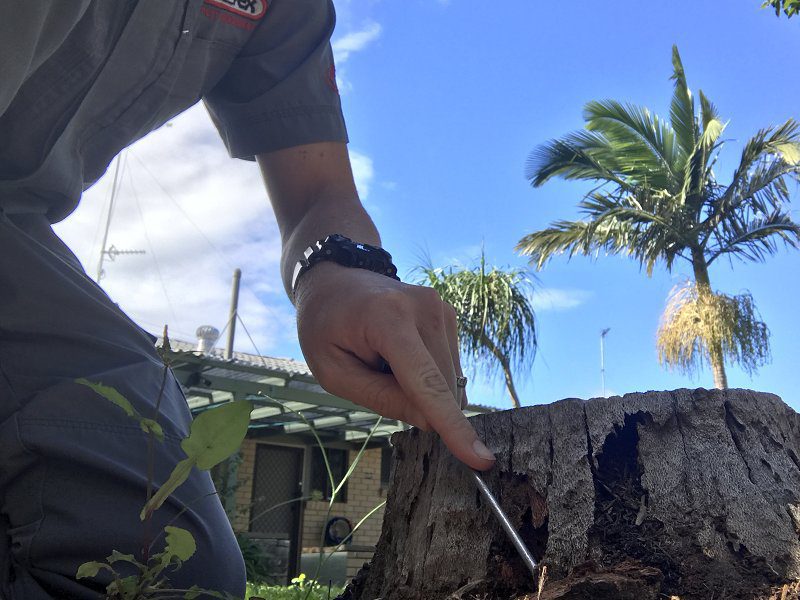 Inspecting the outside walls
We always recommend inspecting the outside walls before we look at the interior of the home so we can eliminate the exterior as a point of entry. Most commonly we'll find a small termite tube, which we call a mud tunnel or mud trail, where the termites have entered a crack in the brickwork or through a weep hole in the exterior wall.
In a high-moisture room, like a bathroom, we may suspect there are termites, but can't find any evidence of them when we do an internal examination. This is why it's important to first do an external check for potential points of entry.
Inspecting the inside of the property
If we don't find any termite activity outside the property, we then focus our inspection internally. We need to know about any "moisture incidences". We want to avoid confusion between water leaks and termite activity. It is important homeowners tell us if they have experienced leaks in their bathrooms, vanities or kitchen recently. We use devices that scan for evidence of moisture in the walls so prior damage can give us a false reading.
We start by walking very slowly through the home, working clockwise from one side to the other. We systematically tap the skirting boards, doorframes and window frames with a donger. When termites invade these spaces they devour all the wood and only leave the external paint. When you hit damaged wood with a donger it gives off a different tone. This indicates that this is a hollow area with termite damage.
We also scan these areas with a moisture scanner. Termites excrete "mud" when they have eaten wood, so moisture is another good indicator of their presence. If we find damage with the donger, but no evidence of moisture, we can assume that it is an old termite infestation.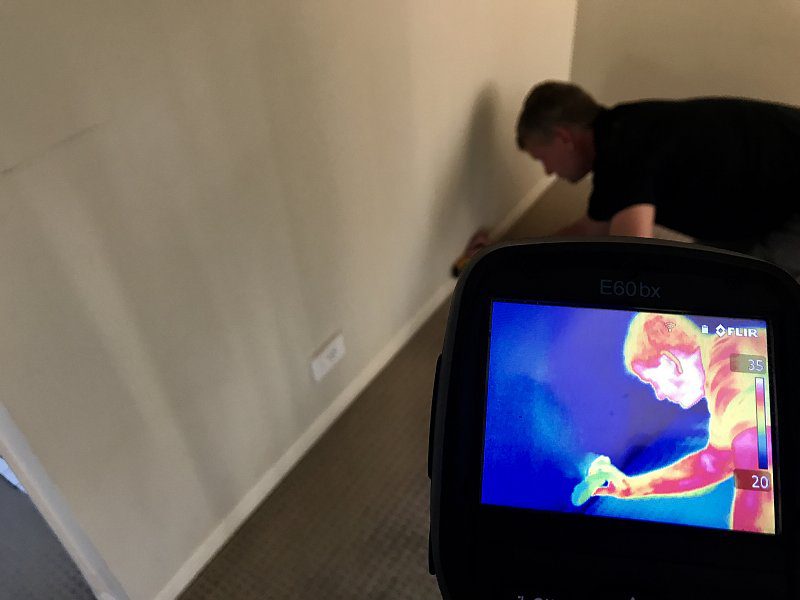 About 80 percent of Australian homes have an infill slab between the floor and the wall. We commonly see termite workings here too because they enter the home underneath the brickwork or between the internal slab and brickwork.
We also scan the areas we are inspecting with a Termatrac sensor, which works a bit like a heart rate monitor. When the blue line flickers we know there is movement in the wall. We can also use a thermal imaging camera to measure movement. Any sign of movement confirms a live infestation of termites in that area. No movement means no termites and we can then assume the moisture is not caused by them. As we go, we mark the walls with small dots to signal abnormal readings.
Finally, we check all the accessible areas in the roof void including the roof trusses, frames and top plates as required by Standards Australia. Many contractors only inspect from the manhole whereas we actually climb into the roof and inspect all areas thoroughly. A full inspection takes between one and one-and-a-half hours.
What we do once we detect termite activity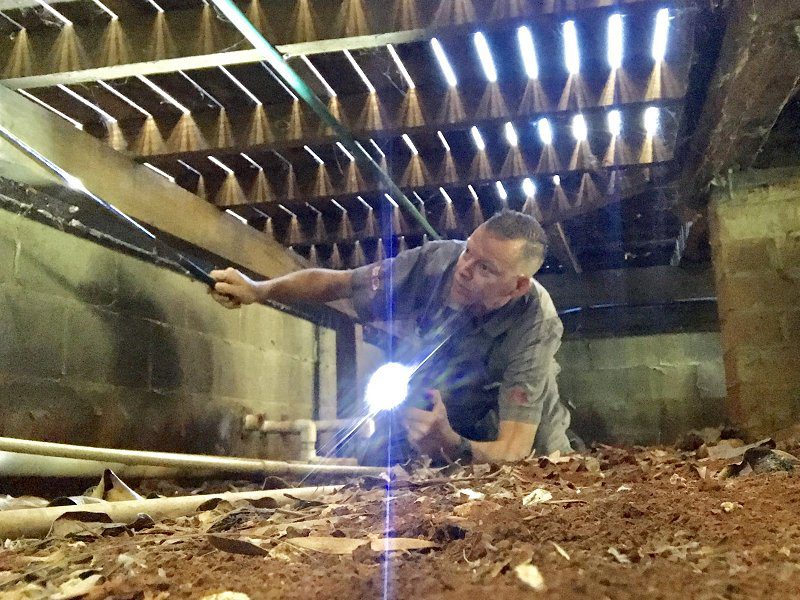 We go back to the marked areas and cut a small access hole with permission from the client. We need to look in the wall to determine what type of termite they are. You will be presented with a 12-page digital report and our treatment recommendations.
Due for a termite inspection?

Call us to book a guaranteed professional inspection of your property so we can check for signs of termites outside and inside your home. Our treatments will last you for up to 8 years because we use Termidor, a termite control product considered to be the most effective in the industry.
We are standing by to help you, so give us a call!