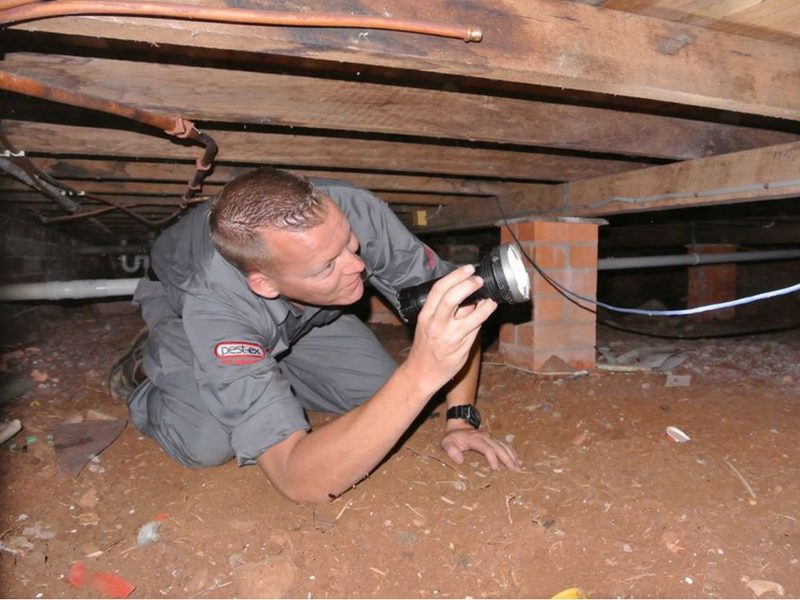 Since 2006, Pest-Ex have performed more than 7,000 termite inspections and treatments in and around just the Brisbane area alone – excluding the Gold Coast, Logan and Tweed.
We've seen the devastation and damage that termites can cause to homes, and how much of an impact this can have on homeowners not just financially but emotionally too.
We also get asked a lot of questions about termites, what they look like, how much an inspection costs, how much it costs to get rid of them, and so on, so we decided to put together this guide to help homeowners have a better understanding of exactly what's involved during both an inspection, and treatment. Of course, if you feel that your home might be at risk, or you've found what appears to be termites, then be sure to get in touch with as quickly as possible.
What is a termite inspection?
A termite inspection is a visual inspection of a home or structures accessible areas for signs of active termites or termite damage. Termite inspections also include the detection of any areas that are likely to attract termites. If this is ever the case, we provide recommendations on termite prevention methods as well as keeping your home as low risk as possible.
Inspection areas typically include –
External building perimeter/wall edges
External fencing/landscaping and trees and stumps in yards
Subfloor areas under homes or buildings
Internal areas including skirting boards and door frames
Roof void areas accessible
What do we look for?
During a termite inspection our technicians look for any signs of termite activity or current and past damage caused by termites. Also, moisture or conducive areas for potential termite attacks, such as garden beds, around hot water units, bathrooms and kitchens. Any signs of termites are quickly and easily detectable to trained pest technicians which is why we will usually spot them well before the home owner is even aware of any issues.
What tools do we use?
Australian standards recommend we use a minimum list of tools such as –
Tramex Moisture encounter plus (Moisture scan tool)
Tapping stick (Donger tool)
Screwdriver
Torch
We usually use a combination of all of these tools plus more to ensure we cover every inch of the home to detect the signs of termites as early as possible.
Termite inspection equipment and its usage
Here's a quick run through of the type of equipment our qualified pest control technicians use to diagnose and identify potential termite infestations.
Thermal Imaging Cameras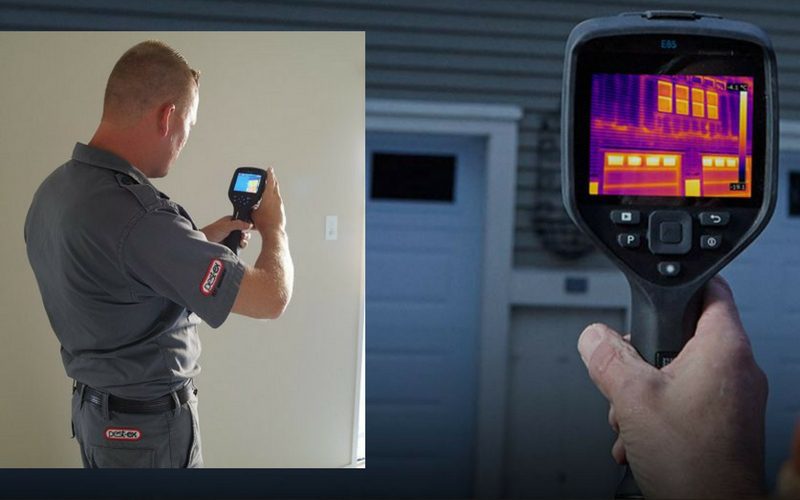 Thermal imaging cameras (or Infrared cameras) are an expensive piece of equipment and an absolute must have for professional termite inspectors.
These tools use a heatmap signature that helps us accurately pinpoint moisture or heat through the walls generated by termites or any active water leaks. As these thermal imaging termite inspection cameras have a screen it makes pinpointing areas for further investigation a breeze.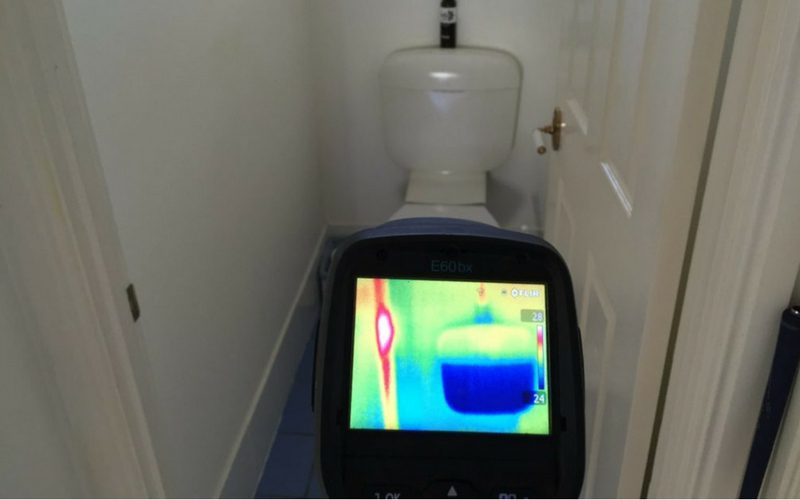 The photo above shows moisture in the toilet tank (indicating water) whilst the red patch to the left shows active termites, which would have gone completely unnoticed without the thermal camera.
If ever you call a pest control company and they come out to your home and they don't use one of these, then chances are its likely they're going to miss something. Don't take any chances, do it right and give us a call.
Termatrac Motion Sensors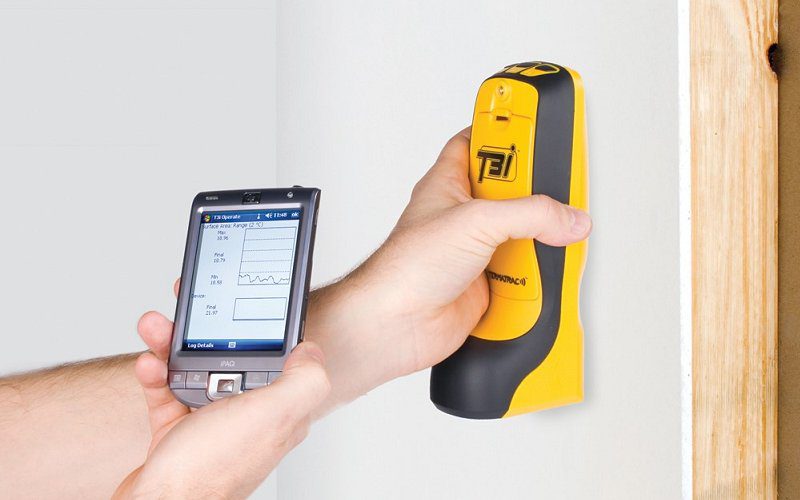 These sensors are used often as a secondary tool once we have identified an irregular heat signature using our thermal imaging camera (shown above) For example if we find an anomaly (abnormal reading of moisture or heat) in a wall of your home we will then use the Termatrac Motion Sensor to scan the wall for movement.
This is a handheld device that relays movement back to a device much like a mobile phone that indicates movement. If even a small number of termites are present in the wall it will set of the sensor.
Here's a simple graphical representation of how it works using sonar.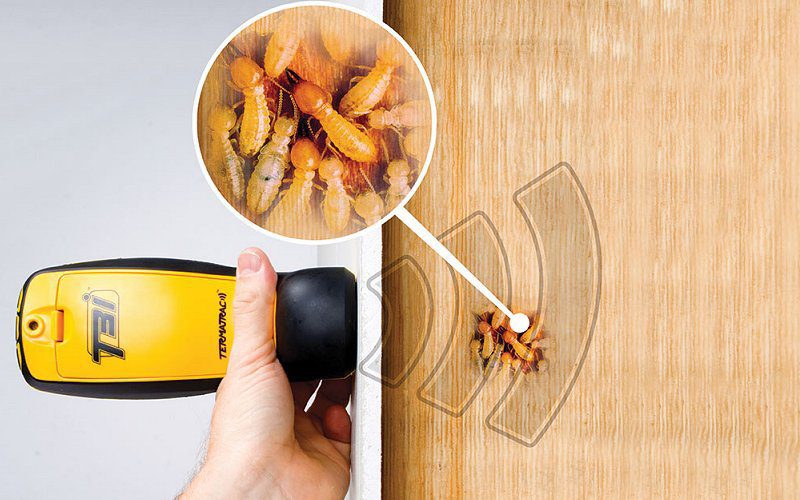 Bug-eye Termite Scope Camera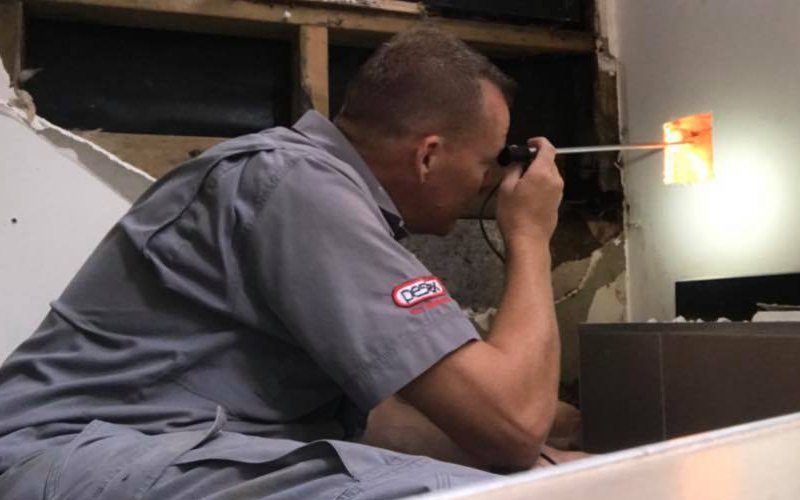 Once we find areas with the above-mentioned tools we then confirm our findings further using a bug eye termite scope camera. Unlike the previous methods, this is an invasive means of inspection as we'll make a small (pencil) sized hole in the wall to insert the camera. This allows us to physically see the termites in the wall, and also allows us to show our customers too.
How much does a termite inspection cost?
A standard termite inspection will vary between $190 -$250 depending on the size of your home. Unlike cheap inspections we provide a full report that includes digital photography of our findings along with recommendations as to how you can lower your risk of any further infestations. The price of an inspection is nothing compared to the expenses that can be caused by a severe termite infestation.
For a full report on what we charge for termite inspections (and treatments) click here
What to expect during a termite inspection?
If you've never had a termite inspection performed, or you're considering having one done, then the following are a few keynotes about what's involved.
Termite Inspection to all external areas accessible
Termite Inspection to all internal areas accessible
Termite Inspection to all areas accessible in roof voids/sub-floors
sounding of all accessible timbers and trims
Moisture scan tool used in internal wall linings accessible
Thermal imaging camera scan of all walls accessible
Includes full photo report of findings and recommendations if needed
How often do you need a termite inspection?
Australian standards recommend homes in south east Queensland in particular be inspected for termites annually. In some cases where there is a high risk of termites it's common for homeowners to have their termite inspections done 6 monthly. This is mostly due to the tropical climate that Queensland is best known for.
Remember, termite inspections don't stop termites or keep termites out of your home. Termite inspections are intended to detect the early signs of an infestation and allow you to act quickly before any major damage is done to your home. Termite inspections performed by us also come with recommendations and advice on small alterations you can implement around your home to reduce any possible risks.
These recommendations might seem small in certain cases, but those small changes may one day save your home.
What if termites are found in my home?
Don't panic!
The first thing you need to be mindful of is that if you DO find termites – DO NOT DISTURB THEM. Doing so can cause the issue to worsen as they may scatter to other areas of the home. Best thing to do is call us.
Having said that, it should be known that we treat termites regularly. The way in which we treat your home will vary depending on it's construction type.
Scenario 1
You have termites in a flat slab home constructed on a level block of land
Termite Barrier will be the most suited treatment type for your home. Termite barriers require the internal areas of activity be treated first using a foam or "dust" 21-30 days before the external perimeter termite barrier can be installed. This will eliminate the termites inside your home and completely protect the home from any further termite attacks.
Scenario 2
You have termites in a split-level slab or pole home on a sloping block of land
Termite Bait System will be most suited to your home. Termite baiting systems require termite baits (feeding boxes) to be installed to areas of internal activity. External perimeter termite baits will be installed at 3-meter intervals around your home to intercept and protect your home from future termite attack.
Summary
We hope this guide helps answer any questions or thoughts you may have had regarding how termite inspections and or treatments work. If you haven't had a termite inspection in the last 12 months we highly encourage you to pick up the phone and give us a call.
We service all areas of Brisbane, Logan City, Tweed Heads and the Gold Coast.
Ready to Work With Pest-Ex?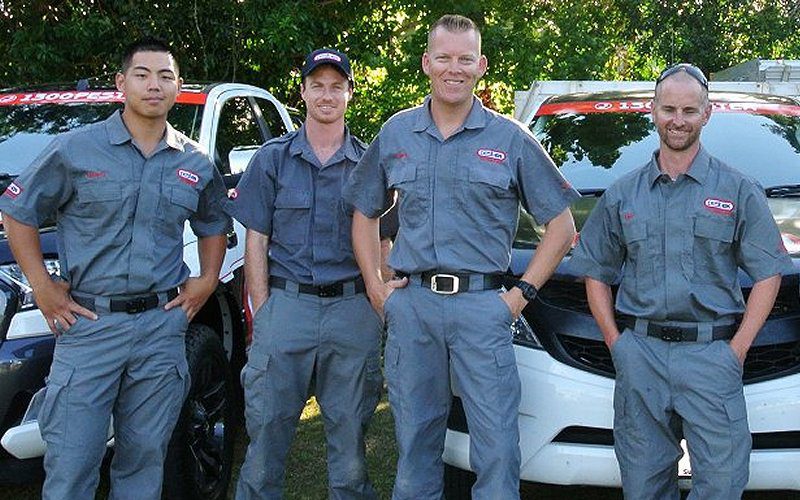 Pest-Ex have been providing termite treatment and control services since 2006. We have performed thousands of termite inspections and have more than 7,000 happy customers. We're also –
Fully insured and licensed
Our pest controllers are among the most experienced and qualified in the pest control industry
We only use environmentally friendly products, and are dedicated to providing pest control solutions that are safe for the local fauna and flora
We are flexible, and can work in residential, commercial and industrial properties
Talk to Pest Ex today for all your termite management and protection services – we look forward to hearing from you!