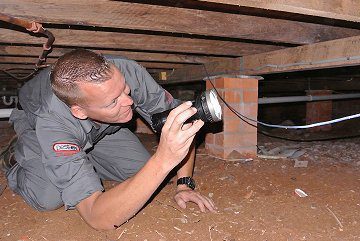 Cannon Hill's most popular pest control business, Pest Ex, offers the most professional detection, removal and treatment solutions in the Brisbane area.  Our experience in the industry has spanned more than ten years, and we have thousands of satisfied customers right across Southern Queensland.
We specialise in accurate identification of pests, tracking them down to their source, and providing tailored treatment solutions that are not only safe for you and your family, but for the environment as well.  We are members of the Australian Environmental Pest Managers Association and make sure that all of our products have passed the strict Australian safety standards.  We look after residential, commercial and industrial properties, making us the most flexible and comprehensive pest control company in the local area.
If you're concerned about pests in and around your property, give us a call and let us take care of the problem today!
cannon Hill PRE PURCHASE PEST INSPECTIONS
It's not always easy to see termite activity or the damage they can cause with the naked eye.  That's why it's so important to have a professional pre-purchase pest inspection done if you're thinking of buying property in Cannon Hill.  Termite damage can cost thousands of dollars to rectify, sometimes even requiring a full renovation of the affected area, so having a qualified pest controller give the property the all clear before you sign on the dotted line is a smart move.
Our pre-purchase inspections can generally be arranged the same day as you contact us.  Our pest controllers are certified timber inspectors, and we'll attend the property equipped with high powered detection technology such as thermal imaging cameras, looking at:
The roof area: trusses and beams, vents and skylights, downpipes and gutters
The main internal areas of the property: the walls, floors, ceilings, timber cupboards or inbuilt cabinetry, window and door surrounds
Underneath the building: crawl spaces and voids, basements and underneath decking or verandahs
Outside of the building: any landscaping, fencing and walls, trees and tree stumps, the soil
Once we've completed our inspection, we'll tell you what we found in person (or if you prefer, over the phone), then create a detailed 14 page colour report around 24 hours later.  The report will include evidence of any live nests or pest damage in the form of photographs, and we'll provide our recommendations for potential treatment solutions.
Our pre-purchase inspection reports are considered to be the best in the industry, and are recommended to potential property buyers by conveyancers and banks.  We also offer pre-sales inspection reports to anyone thinking of selling a property in Cannon Hill.
First Class TERMITE TREATMENT & PEST CONTROL SERVICES

Pest Ex doesn't just provide pest inspections – we offer a full range of termite treatment, pest control and ongoing management services in and around the Cannon Hill region.
It can be a nuisance to find pests in or around your home or business, and unfortunately many pests common to Queensland can pose a serious health risk.  The best thing to do when you do come across pests such as spiders, wasps or rodents is to call in the professionals in as quickly as possible.  Other pests, such as termites, will require immediate action, as well as a long term management solution.
The full list of pests we treat includes:
Spiders and ants
Mosquitos and flies
Bees and wasps
Flea and bed bugs
Rats and mice
Termites and white ants
We are the number one choice for termite detection, removal and management services in the area, and we provide regular inspections, termite barriers, traps and baits and the installation of anti-termite systems such Homeguard.
No job is too small or too complex for us, thanks to our years of experience, local knowledge and superior pest detection equipment.  We'll give you a no obligation estimate for the cost of the job before starting any work, and explain our process to you so you'll know exactly what we'll be doing for you.
our 100% money back guarantee to you
We are proud of our track record of high quality work and the thousands of happy customers we have right across Brisbane, the Gold Coast and Logan City.  That's why we offer a 100%, no questions asked, money back guarantee on our services.
So call us today and find out why we're the number one choice in Cannon Hill