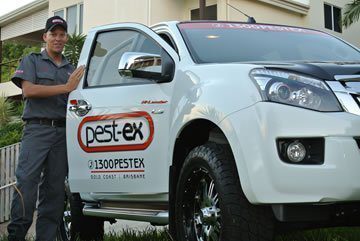 Pest-Ex offers expert pest and effective termite control solutions in Carole Park and the surrounding suburbs of south west Brisbane. We provide assistance to both commercial and residential properties, including restaurants, cafes, shopping centres and more.
With over 40 years hands on practical experience, our team are the most highly qualified professionals in the business. We use only the latest in pest removal technology, such as thermal imaging and radar detection methods,, so when you choose to work with Pest-Ex, you'll know that you're working with dedicated professionals.
Give Pest-Ex a call today for all your pest control needs.
Carole Park property Pre Purchase Pest Inspections
Termite damage and signs of a possible termite infestation can often be difficult for homeowners to detect.
This is why it's important you work with a team of established professionals, such as Pest-Ex, who can quickly and easily detect, identify and eradicate common pests. We've been operating in the pest control industry for many years and have helped over 10,000 property owners within Carole Park and the surrounding suburbs of Brisbane, get rid of unwanted pests.
If you're looking at either buying or selling a property, whether it be a home or otherwise, consider our pre purchase pest inspections. They're extremely comprehensive – consisting of a 14 page written report with photos of problem areas, and a personal one on one consultation. If you're unable to attend the inspection, we can provide the consultation over the phone to ensure you're clear about our findings.
Call our office now to make a booking.

Our pre purchase inspections cover –
Around the yard – Nearly all outside areas can be affected, especially fencing and retaining walls not to mention any timber landscape and other features.
Within the roof – Any part of the roof, skylights, vents, flues, valleys, guttering, down pipes, eaves, roof battens, trusses, top plates, hanging beams and rafters.
Inside the home – Your trims, skirting, door jambs, window architraves, doors, cupboards and flooring.
Under the house – All of the bearers, joists, timber piers, timber flooring and stored timbers
Carole Park Termite Treatment & Pest Control Control Services
Pest Ex provide a full range of pest management and treatment services that cater to your home or business.
Some of our services include –
Termite inspections
Termite treatment
Termite control
Traps, baits and deterrents
Pre-purchase pest inspections
Pest control
Unlike other pest control service providers, when inspecting your home, we are are extremely thorough. We inspect everywhere – both inside and outside of your home (including the yard and within the roof cavity) to ensure we detect and identify any unwanted pests that might be infesting your home.
Pest-Ex are 100% guaranteed
Here's exactly why you should work with us –
We are licensed and fully insured
Qualified timber pest inspectors (Cert 3 – Pest management technical)
Unbeatable onsite service and full communication
We work for You not the agent or seller
We are recommended by leading banks and conveyancers
Work with proven, trusted professionals
Our services are both safe and family-friendly for your property or home. Across the Brisbane and Sunshine Coast and Gold Coast areas, we provide a range of commercial and residential pest control applications in premises that include homes, offices, restaurants and hotels.