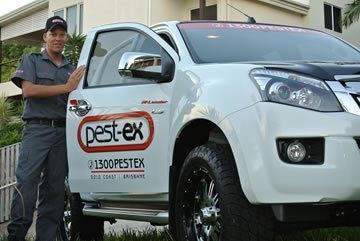 Pest Ex provides high-quality pest control solutions within Durack and other surrounding suburbs in the Brisbane area.
Our Technicians are prompt and professional and have protected over 10,000 homes across Brisbane. We are highly trained and equipped to handle any pest problem quickly and efficiently. We're fully licensed, insured and our treatments come with a warranty. This is why Pest-Ex is the most trusted pest removal company within Brisbane.
Book a consultation today. Give us a call.
Durack Pest Control and Termite Treatment Services
Pest Ex provide a full range of pest control and treatment services that cater to your home or business.
Our services include –
Termite inspections
Termite treatment
Termite control
Traps, baits and deterrents
Pre-purchase pest inspections
Pest control
Our Termite and Pest Inspections include –
Gardens and yards – External areas like timbers, retaining walls fencing, drainage may be highly attractive to pests, we report on all conducive conditions.
Internal areas of home –walls and floors are scanned for moisture content, all door frames and skirting boards are also tested for evidence of termite pest presence or damage.
Subfloor under home – All of the bearers, joists, timber piers, timber flooring and stored timbers
Roof voids – Any part of the roof, skylights, vents, flues, valleys, guttering, down pipes, eaves, roof battens, trusses, top plates, hanging beams and rafters.
Pre purchase pest inspections in Durack
When it comes to property inspections, we're are extremely thorough.
We make sure we check every area of your home or business in an effort to ensure total coverage. Unlike other pest control service providers, we don't just check inside your property. We also check the yard, and within the roof cavity. This gives you peace of mind in knowing you're covered. In addition, we provide you with a comprehensive, 14 page written report outlining our findings, which we go over with you, either in person or via phone.
Call Pest-Ex for the most thorough termite & pest inspections in Durack.
Benefits of Working With Pest-Ex
Here's exactly why you should work with us –
Unbeatable onsite service and full communication
We are recommended by leading banks and conveyancers
We are licensed and fully insured
We work for You not the agent or seller
Qualified timber pest inspectors (Cert 3 – Pest management technical)
Safe, affordable and efficient.
Our services are both safe and family-friendly for your property or home. Across the Brisbane and Sunshine Coast and Gold Coast areas, we provide a range of commercial and residential pest control applications in premises that include homes, offices, restaurants and hotels.
We look forward to working with you.