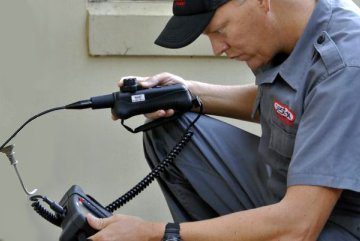 Pest Ex is Maudsland's number one pest control company, providing effective, fast and environmentally friendly solutions for over 10 years in and around the region.  We specialise in the detection and treatment of all of the major pests found in properties, including termites, ants, spiders and fleas.
We can help you – just contact us today for a free, no obligation quote.
HIGH QUALITY PEST CONTROL SERVICES IN MAUDSLAND
It's an awful feeling knowing that you might have a pest infestation in your property.  You may even have tried to deal with it yourself, but found the job was too large or you needed specialist advice and professional products to deal with the issue.  Pest Ex have over 7,000 happy customers, and we can provide you with a thorough and comprehensive solution, tailored to your needs.
Our services cover the following:
Inspections and detection of pests using the latest in innovative technology, including bionic ear listening devices, moisture meters and thermal imaging camera
Effective treatment plans, using environmentally friendly products that are safe for both children and animals
Ongoing management of pest infestations
Pre purchase and pre sale pest inspection reports
Unfortunately, the list of pests that can make their home in your property is a long one, and Pest Ex is highly experienced and qualified in dealing with all of them, from ants, spiders and mosquitos, cockroaches, rodents, flies and other flying insects, to bed bugs, silverfish and fleas.
We are happy to work with a range of different types of property, including:
Residential properties
Businesses and offices
Hotels, restaurants and cafes
Schools, daycare and child care centres
No job is too big or small for our friendly, qualified pest controllers, so call us today!
SAFE AND EFFECTIVE TERMITE TREATMENTS
One of our most popular services in the Maudsland area is termite treatment, especially those among properties with wooden structures or features.
We provide prompt on site service – generally on the day or soon after you have contacted us – and we offer the following:
An inspection for evidence of termite activity.  This involves a comprehensive examination of all areas of the property, including the interior, exterior, roof, basement and outdoor areas.
High tech equipment such as thermal imaging is used, and helps us track down any likely infestations.  We use only environmentally safe pesticides so ensure the safety of you, your family and any pets or animals you may have.
Termite treatment will involve removal, protection and a prevention plan that is tailored to your individual needs, including the installation of the highest quality anti termite systems such as Exterra, Biflex, Sentricon and Termidor.

WHAT IS A PRE PURCHASE PEST INSPECTION?
You may have heard this term from an agent or in the media.  A pre purchase pest inspection is a report you can get from a professional pest control company such as Pest Ex that documents the levels of pest activity in a residential, commercial or industrial property you may intend to buy.  It is designed to give you peace of mind before signing on the dotted line.
Pest Ex's pre purchase inspection reports cover the following:
A summary of the property's on-site inspection conducted by our professional pest controllers, including all interior and exterior areas.
The 14 page report includes colour photographs of any areas for concern, with clear and concise wording.  The report can be explained in person in consultation with you or over the phone if convenient.
It's hard to look at a property and know whether or not it has serious pest issues.  Don't leave it to chance – call the experts today for your pre purchase inspection.
OUR 100% GUARANTEE ON PEST CONTROL SERVICES

Our customers are some of the happiest in the industry because we take pride in our work.  We offer the most thorough pest control services in and around the Maudsland area, and our pest controllers are highly trained and qualified.  Pest Ex is also a registered member of the Australian Environmental Pest Managers Association, meaning we take the environment and your safety very seriously.
Our high standards and level of professionalism means we can offer a 100% money back guarantee on all of our work.  Don't leave the treatment of your nuisance pests to a less experienced or professional pest control company – call us today to find out how we can help you.