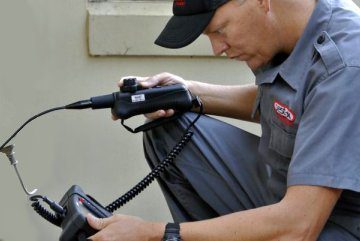 Pest Ex, situated near Ormeau are the Gold Coasts leading pest control and termite treatment company. With over a decade of experience, we have serviced over 7,000 satisfied customers – assisting them with everything from pre purchase pest inspections to the detection, removal and treatment of common household pests. Our team of experts are highly qualified, friendly, prompt and polite and are ready to assist with all your pest control needs.
We provide pest control services to –
residential properties
schools
restaurants and cafes
commercial and industrial properties
Our staff are highly trained, fully insured and licensed professionals who can quickly and efficiently rid your property of unwanted pests using the latest in pest removal technologies, such as thermal imaging cameras, moisture and radar detection systems.
Don't put it off. Call us today and get rid of those unwanted pests.
Ormeau's most trusted pest control company
Pest Ex provide a full range of pest removal and treatment services for both residential and commercial properties.
Some of our services include –
Termite inspections
Termite treatment
Termite control
Pre-purchase pest inspections
Pest control
Traps, baits and deterrents
Work with a proven team of trusted professionals. Work with Pest Ex.
Termite Treatment Services in Ormeau
Pest Ex provide an extensive service offering in terms of white ant and termite removal services. When inspecting your property, we investigate all areas to ensure total coverage. We check inside and outside the property – including the yard, the perimeter and the roof cavity. Of course if we find live termites during an inspection we can take action immediately, or provide you with a quote for their removal.
Here are just some of the termite treatment services we can help you with –
Termite treatment for live nests and active infestations
Termite barriers (post and pre construction)
Baits, and baiting traps
Ongoing management including prevention, protection and removal
Termite inspections, including all areas of your property (inside, outside, yard, roof cavity etc)
Installation of the following anti termite systems – Biflex, Exterra, HomeGuard, Sentricon, Termidor.
In addition to our termite treatment services, we also provide a full range of of traditional pest management and pest control services to find, eradicate, and prevent the following –
Flies, midges and other flying insects
Rodents, mice, rats
Spiders
Cockroaches
Fleas
Ants
Bees, wasps, mosquitos and biting insects
Spiders
Bed bugs, silverfish and more
If you have concerns about pest problems in your home or business, give us a call at Pest Ex. We provide same day services, and can be onsite to provide a quote or get to work in a matter of hours. Call us today.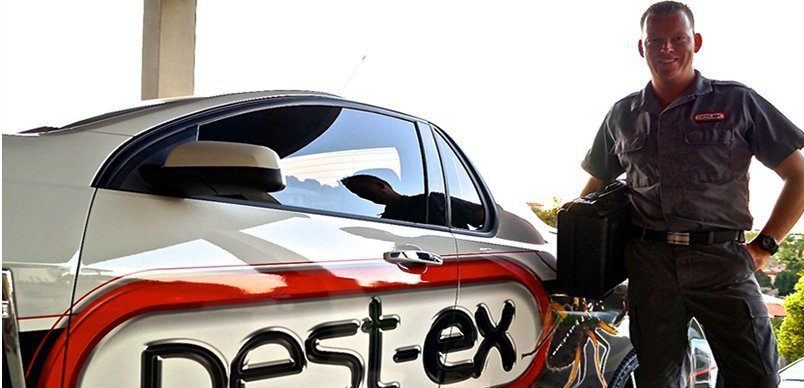 Pre Purchase and Pre sale pest inspections
For over 10 years we have assisted thousands of home buyers ensure their properties are pest free, before they buy, giving them peace of mind in knowing there aren't any underlying problems with the property. Failing to have a property inspected, can result in huge financial losses and costly repair bills. So be sure to have your property inspected by Pest Ex.
We thoroughly examine, inspect and report on all areas of your property that may be compromised, especially by borers and termites. This includes all timber structural areas, joists, beams and joinery. We also take into account the exterior of the property, checking on the perimeter, the yard, soils, gardens, landscape features, pavers, and in particular any dead, fallen trees or tree stumps.
For a more detailed overview, our pre purchase pest inspections cover –
Inside the property – Your trims, skirting, door jambs, window architraves, doors, cupboards and flooring.
Around the yard – Nearly all outside areas can be affected, especially fencing and retaining walls not to mention any timber landscape and other features.
Under the property – All of the bearers, joists, timber piers, timber flooring and stored timbers
In the roof and ceiling – Any part of the roof, skylights, vents, flues, valleys, guttering, down pipes, eaves, roof battens, trusses, top plates, hanging beams and rafters.
We are Australia's leading pest control company
Why work with Pest Ex?
Pest Ex are the Gold Coasts leading pest removal and termite treatment company. If you're still unsure, take a look over why you should work with us –
We have helped over 7,000 happy customers
We are licensed and fully insured
Qualified timber pest inspectors (Cert 3 – Pest management technical)
Unbeatable onsite service and full communication
We work for you not the agent or seller
We are recommended by leading banks and conveyancers
Our Services are 100% Guaranteed
Our services are both safe and family-friendly for your property or home, and are covered by a 100% guarantee. We provide a range of commercial and residential pest control applications across the Gold Coast, in premises that include homes, offices, restaurants and hotels.
Call today, we look forward to working with you.