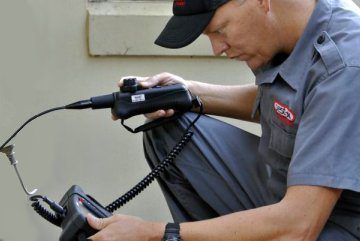 Pest Ex is the number one choice pest control and termite treatment services in the Gold Coast.  Our team of pest controllers are some of the best in the business, servicing the Steiglitz area and surrounding suburbs.  We provide detection, removal and treatment of the following:
Cockroaches and spiders
Ants and fleas
Rats and mice
Bees, wasps and mosquitos
Silverfish and bed bugs
All of our work is conducted in line with current Australian Standards for quality and safety.  We also adhere to all the necessary licensing and insurance requirements, meaning that you can be assured you're in safe hands.
Find out how Pest Ex can help you today – call us now!
PRE PURCHASE PEST INSPECTIONS IN STEIGLITZ
If you've been thinking about buying property in the Steiglitz or the greater Gold Coast region, you should consider getting a pre-purchase pest inspection report from Pest Ex.  No one wants to buy a home or a business only to discover that it is riddled with nuisance creepy crawlies or dangerous pests.
Our reports are some of the most comprehensive on the market, thanks to our thorough property inspection regime.  Once you book an inspection, our highly qualified pest controllers can generally come on site the same day to inspect the following:
The inside of the property:  all rooms and hallways, walls and floors, window architraves, doors and doorways, any cabinetry and timber fittings, the roof cavity and underneath the property
The outside of the property:  any external garden or yard area, landscaping and fences, trees and soil, any nearby structures
Once we have concluded the inspection, we will create a 14 page report of our findings which also includes photos.  To ensure the report is as useful as possible, we make sure we explain everything in clear and concise language.  We will also discuss our findings with you in person or over the phone if this is more convenient.
Our pest inspection reports are very popular, and we have provided 7,000 of them to satisfied customers since 2006.  We can also conduct pre-sales pest inspections and create reports that can be provided to prospective buyers.  It's important to keep in mind that pest inspections conducted by agents can often be superficial, whereas our inspections are completely impartial.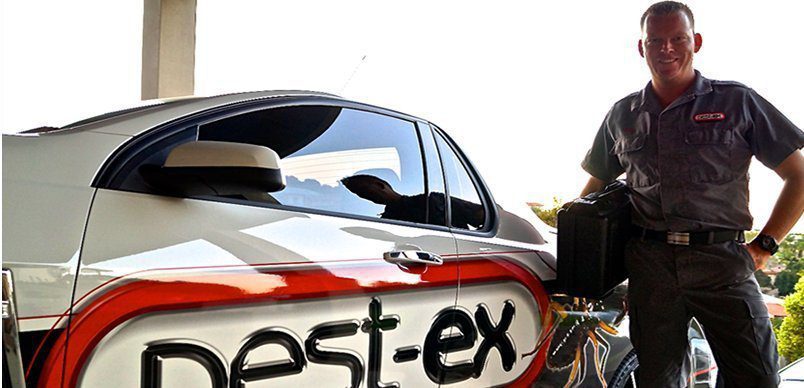 STEIGLITZ'S TRUSTED TERMITE TREATMENT SERVICES
Pest Ex has provided termite treatment and management services in the Gold Coast area for ten years, and we have become the number one choice for our quality, professionalism and safety in the industry.
The Gold Coast is well known for it's beautiful weather and scenic destinations, but it is also known among home and business owners for termite and white ant activity.  It is important for properties to undergo regular termite inspections to prevent infestations, and if you do find evidence of termite activity, you need to have it taken care of as soon as possible.
Our termite inspections are conducted by qualified timber inspectors – the best in the business – and we use the latest in modern technology including thermal imaging cameras to search out any live nests or evidence of activity.  Our inspections cover all areas of the property, both inside and out.
We are equipped to be able to deal with any infestations on the spot, or we can provide you with a quote for removal and treatment services, including the following:
Baits, deterrents and baiting traps
Termite barriers – pre and post construction
Complete anti-termite systems such as Sentricon, Exterra and Biflex
Ongoing management solutions and advice on pest control
If you do have termites in your property, it is imperative to act quickly to avoid further structural damage and costly repair work in the future.
So don't delay – contact Pest Ex for a free, no obligation quote for a termite inspection.
WHY WORK WITH PEST EX?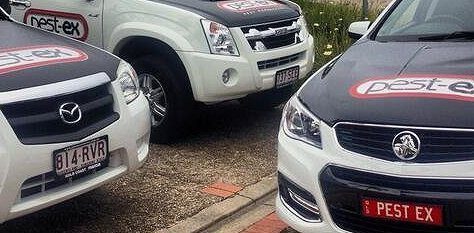 Our track record, our commitment to safety and our professionalism mean that we've become the number one choice for thousands of customers in the Steiglitz and Gold Coast areas.
Here's why you should choose us:
Our products and treatments are environmentally safe, and we are registered members of the Australian Environmental Pest Managers Association
Pest Ex is recommended to customers by banks and conveyancers
We are locals, and understand the environment in Steiglitz and the surrounding Gold Coast
We can provide same day service, and offer no obligation free quotes for our services
We offer a 100% guarantee on all of our work