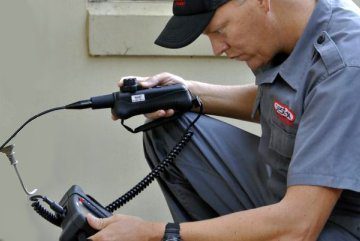 Having an experienced team of licensed professions, Pest Ex is a fully accredited company on the Gold Coast providing high quality pest control services.  Pest Ex services Tallai and the surrounding area using products and methods that are designed to keep your children and pets safe while being effective on targeted pests such as:
Cockroaches
Spiders
Ants
Bees, wasps, mosquitos and biting insects
Termites
Fleas
Flies, midges and other flying insects
Rodents, mice, rats
Bed bugs, silverfish and more
To receive a complimentary quote, call Pest Ex today and speak to one of our helpful and knowledgeable representatives.
LATEST TECHNOLOGY TERMITE TREATMENT SERVICES
Detection and treatment systems for pest detection is a rapidly evolving field and Pest Ex is committed to being on the technological forefront of pest control.  In particular, we are deploying new detection systems that take advantage of thermal imaging cameras while also checking for movement with radar and looking for moisture.
Simply put, if termites are present in your home or office our expert pest inspectors will uncover them.
During the inspection, if we discover that you have termites, we can offer you an obligation free quote immediately and make arrangements to have them treated right away. Outline below is a comprehensive list of our termite treatment options –
Inspection for termites across the various areas of your property including: inside, outside, your roof, front and back yards as well as crawl spaces and cavities
Treatment of active termite infestations and live nests
Baits, baiting traps and ongoing monitoring
Termite barriers (post and pre construction)
Installation of the following anti termite systems – Biflex, Exterra, HomeGuard, Sentricon, Termidor.
Ongoing management including prevention, protection and removal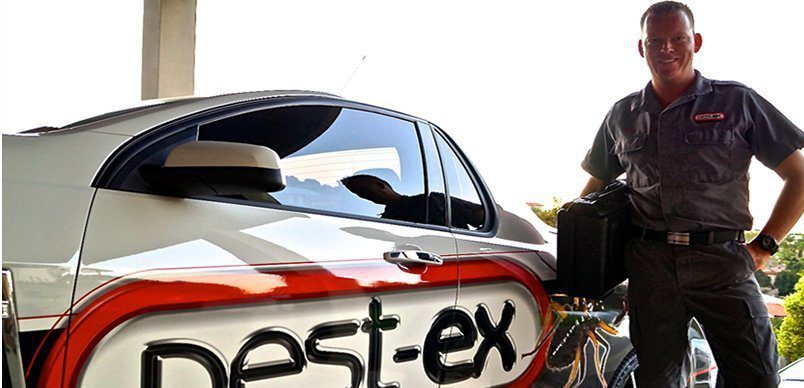 MOVING TO TALLAI?
Before moving your family or business to the Tallai area on the Gold Coast, it would be good to consider a pre-purchase pest inspection.  Doing a thorough and comprehensive inspection of the entire property including:
The hard to get at areas inside the property such as the walls, doors, architraves, floors, wardrobes, skirting, door jambs and windows.
Our inspectors will thoroughly inspect your roof looking at any and all roof cavities, roof battens, hanging beams, skylights, vents, rafters, eaves, trusses, guttering and down pipes.
We'll go down underneath the building to look at the underside of any timber flooring, inspect the joists and bearers, any timber piers that may be present and if you have one, even your basement.
Of course our team will inspect the external areas of the property, such as front and back yards, retaining walls, landscaping features, fences, and anything else where termites may reside. Rest easy knowing that if there are any termites in your new property, we'll find them and help you deal with them properly.
What do our pre purchase inspection reports cover?
After completing our inspection we deliver you a highly detailed and comprehensive 14 page report with colour photographs of the areas inspected with special attention paid to areas that require remediation work.
We back that report up with a one on one consultation so that we can explain our findings and walk you through the next steps in an easy to understand way.
WHY CHOOSE PEST EX?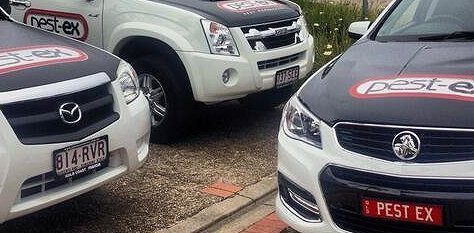 Pest control is something that is entirely manageable and therefore it is important that you choose to work with a reputable, proved and highly trust pest control company that comes recommended by a number of banks and conveyancers.
Working with Pest Ex is the best choice for your pest control needs because:
Pest Ex is fully licensed and completely insured
Pest Ex are registered, qualified timber pest inspectors (Cert 3 – Pest management technical)
Pest Ex has and uses the latest detection and control technology available
Pest Ex only use environmentally safe products (safe for children and animals)
Pest Ex provides the best onsite service and communication available in Tallai and the Gold Coast area
Pest Ex provides a 100% guarantee on its work
Remove any risk from your pest control decision for your residential or commercial property and work with the #1 pest control company in Tallai and the Gold Coast area, Pest Ex.
Call Pest Ex today and let our trusted and expert staff deliver you a no obligation quote.