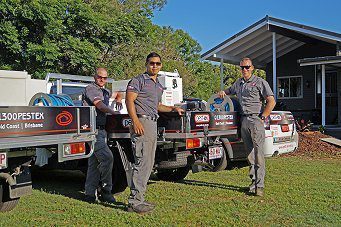 If you need high quality, fast and effective pest control in Flinders Lakes, call Pest Ex.
We are the number one pest control provider in the Logan City, Brisbane and Gold Coast regions, and have thousands of happy customers with more using our services every day.  We are proud that our staff are among the most highly qualified and trained in the industry, and our thorough inspections and high tech pest detection equipment gives us an edge over our competitors.
We're experts at dealing with a range of local pests, including:
Cockroaches and spiders
Bees and wasps
Ants and silverfish
Bed bugs and fleas
Mosquitos and midges
Termites
Rodents
Being locals we understand better than most the importance of protecting the natural environment.  We are members of the Australian Environmental Pest Managers Association, and we ensure that all our treatment products adhere to the highest safety standards as set out in Australian industry regulations.   We'll make sure that we make as little impact on the local surroundings as possible, ensure the safety of you, your family, pets and other occupants of the property, while still providing top class pest control.
Contact us today – we're looking forward to you call!
got a termite PROBLEM in Flinders lakes?
You might have termites and you may not know about it.  Same with your neighbours.
Termites can be notoriously difficult to locate, especially as they tend to look like ants at first glance.  They also are known to enter buildings through subterranean tunnels built specially to be hidden from sight and protect them from predators.   Once they do get into a building, they will make their nests in areas close to a food source – cellulose as found in plant and paper material and timber.  These areas tend to be in out-of-the-way places or hidden dark corners behind walls and under floors.
Pest Ex's termite inspections are designed to find any indication of termite activity, no matter how insignificant or hidden.  Our certified timber inspectors conduct a thorough and methodical examination of:
The main rooms and hallways, ceilings, flooring, walls
The top of the property, including the roof cavity, trusses, gutters, vents and skylights
The bottom of the property, including crawl spaces, cellars or sub floors, stored timber
The outside of the property, including any landscaping, trees and tree stumps, sheds and other buildings, the soil
If termites and their nests have been found during our inspection, we are equipped to fully eradicate them from your property on the spot, or we can give an estimate for the expected cost of the work if you prefer.  If required, we can supply a range of popular anti-termite systems, baits and traps to ensure your home or business is properly secured against these intruders in the future.

thinking of PURCHASING property in flinders lakes?
Pest Ex offers a service to those looking to buy a home or business in the Flinders Lakes area, and are concerned about having it checked out for pests.  Our pre-purchase pest inspections are fast, comprehensive and give you a clear understanding of the condition of the property in terms of current pest activity and past pest damage.
Once you have contacted us, our friendly pest controllers will visit the property in question (generally on the same day) and conduct an inspection, inside and out.  We then take our findings and create a 14-page report that is explained to you.  The report includes any evidence of pest activity and damage, with colour pictures, and we also make some recommendations for treatment based on the level of activity we may have found.
We also offer pre-sales pest inspections for those looking to document the state of their property before selling.  Because we are considered to be the very best in our industry, our pre-purchase and pre-sales reports are recommended by experts in both the financial and real estate industries.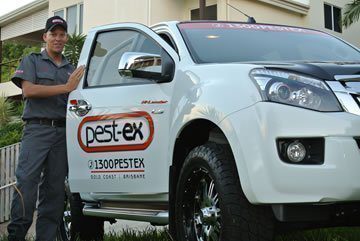 PROFESSIONAL pest control tailored for you
There are many things that set us apart from our competitors – our dedicated staff, our friendly and prompt pest controllers, our years of experience in the industry, and our track record of safety.
Just like every pest is different, we also know that not every pest issue is the same.  Pest Ex provides tailored pest control services, ones that work for you and your property.  We know that a 'quick fix' will not always be the best solution, and will take the time to clearly explain each step to you, and how it will solve your problem.
So if you have any kind of pest issue in Flinders Lakes, contact us today and let us help you!