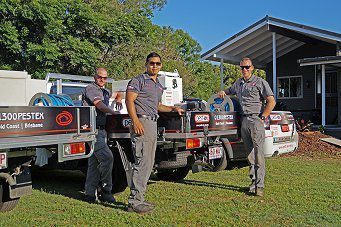 When you want only the very best pest control solutions in Logan Central, Pest Ex will be the company you turn to.  Not only do we have over a decade of experience servicing homes and businesses across the Southern Queensland region, our reputation for effective and professional pest solutions is second to none.
We offer a range of detection, eradication and ongoing management solutions for a wide range of pests, including termites, spiders, ants, cockroaches and mosquitos.  We are a local company, and are dedicated to using only the most environmentally friendly products in our treatments to ensure we preserve our precious fauna and flora.
Contact us today and find out why thousands of customers across the Logan Central area will be using us as their number one choice for pest control.
Trusted pre purchase inspections in Logan Central
If you're considering purchasing a property in the Logan Central or wider Logan region, its important to have a pre-purchase inspection conducted.  This is because the region is a well known active spot for termites and white ants, and the possibility that you may buy a property only to find that it is invested with these destructive pests can be high.
Our pre-purchase pest inspections are the most thorough on the market.  Once you have booked an inspection, we will come onto the property and examine:
The outside of the property, focusing on soil, trees stumps, landscaping features, retaining walls and any timber structures such as decking, sheds or carports.
The basement of the property, including any crawl spaces, cellars, sub flooring.
The main rooms of the property, focusing on inbuilt cabinetry, window and door architraves, floors, walls and ceilings.
The top of the property, the roof cavity, skylights, gutters and downpipes.
We use state of the art termite-locating technology, and can often find indications of termites that other companies miss.  Once our inspection is complete, we will then deliver you a colour report of our findings with photographs.  The report is designed to give you a 'snapshot' of the condition of the property in terms of termites, and to provide some recommendations on the best course of treatment.

It's not always easy to see signs of termite activity with the naked eye, which is why you need a professional to give the property the once over and give you a better understanding of what you might be dealing with.  Generally, we can conduct same day inspections, so that you won't be waiting around waiting for answers.  So contact us today for more information on our pre purchase inspections in Logan Central or to book an appointment.
Logan central's number one pest control service
Have you been having issues with pests in your home or business?  As you've probably discovered, dealing with some pest infestations can be frustrating, time consuming and can end up costing you a lot of money if you try and fix the problem yourself.
Our pest control services are designed to be effective, safe and long-lasting.  We will detect and locate the source of the pests you're having trouble with, treat them with environmentally-safe professional strength products, and provide ongoing management treatment if required.  The pests we treat include:
Termites
Ants
Spiders
Flies and biting flies
Mosquitos and midges
Bed bugs
Fleas
Rats and mice
Our professional pest controllers are experts at dealing with small one-off pest eradication jobs as well as wide-scale treatment and management projects.
why work with pest ex?
There are many pest control companies out there, so what is it that makes our customers keep coming back for all their pest issues and refer us to their friends and family?
We are a locally based and owned company
Our pest controllers are highly trained and qualified. They are also friendly, prompt and dedicated to the highest levels of customer service
We can provide same day service in most instances, and will give you a no obligation quote before any work is started
Our services are recommended by experts in the property and finance industries
All of the products we use are certified environmentally safe – we care about the safety of you, your family and your pets
We are proud of our track record in delivering the highest possible pest control services, and hope we can be of service to you.  Call us today – we're looking forward to talking to you!