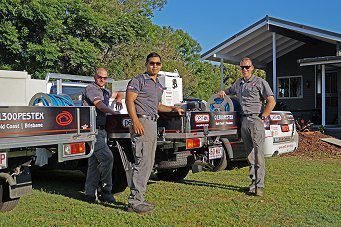 With over ten years' experience, Pest Ex is the number one choice for home and business owners in the Slacks Creek area.  We offer a range of pest control services, including pest detection and removal, pre-purchase and pre sales inspection reports, termite control and management and termite barriers for renovations and new builds.
From the moment you contact us, our friendly and efficient pest controllers will exceed your expectations with outstanding quality of service.  Using the latest in technology, as well as safe and environmentally friendly treatment products, we are the only choice when it comes to pest control in Slacks Creek.
So call us today, and find out for yourself why we are considered number one in the industry.
fast and reliable TERMITE TREATMENT SERVICES
Termites cost businesses and home owners money every year from the damage they can cause.  Many property owners don't even realize they have an issue until they have a routine inspection or they notice signs of activity, and while many people feel that they can deal with these problem pests on their own, getting professional assistance in as quickly as possible is critical.
Our termite detection and treatment services are highly sought after, and involve a rigorous inspection process, followed by complete eradication of termite colonies and treatment of the relevant areas.  We not only use cutting edge detection technology such as thermal imaging and moisture seeking devices, but we also ensure that our treatment products are safe for anyone living and working on the property.  Our pest controllers are registered, certified timber pest inspectors, meaning that they are the best qualified to handle any termite infestation, no matter how big or small.
Our list of termite services is as follows:
Complete termite inspections, including inside and outside of the property.
On the spot removal of termite infestations and live nests
Treatment of areas with environmentally friendly products
Installation of anti-termite systems such as Homeguard, Biflex, Sentricon and Termidor
Installation of termite barriers during renovations and for properties being built
Annual termite inspections

common pests in slacks creek
We see a lot of different types of pests in our line of work – some more difficult to treat than others – but the one factor that we find is true for all is that the longer pests are left to their own devices, the bigger an issue they will become for a property owner.  Even one or two pests can turn into a swarm or infestation under the right conditions, and there is no doubt that most thrive in Queensland's temperate climate.
The most common pests we treat in the Slacks Creek area include:
Spiders and ants
Bees and wasps
Mosquitos and midges
Rats and mice
Bed bugs and fleas
Termites
Silverfish
Flies
While some pest control companies simply treat the pests, we are dedicated to tracking down the original source of the problem on your property.  Only this kind of professionalism will ensure that an infestation won't reappear, making our treatments the most thorough and long lasting on the market.
Let Pest Ex help you today – give us a call!
choosing pest ex is easy
Choosing the right pest controller to help you when you're having an issue is important – make the wrong choice and you're likely to find yourself right back in the same situation three months down the track or even dissatisfied with the treatment options given to you.  We have thousands of satisfied customers who have picked us as their pest controller of choice because:
We are dedicated to the highest standards of customer care and on-site work
Our pest controllers are highly trained, friendly, prompt and polite
We are equipped to provide immediate removal services for pests
We provide no obligation quotes before starting any work
We are fully licensed and insured
We service residential, commercial and industrial properties
We utilize cutting edge technology
We only use products that have passed strict Australian standards regarding safety
We are recommended by experts in the finance and property industries
As an added incentive, we also offer a 100% money back guarantee, meaning that you'll know you're in safe hands when choosing one of our pest control services.  Contact Pest Ex and let us solve your pest issue today!