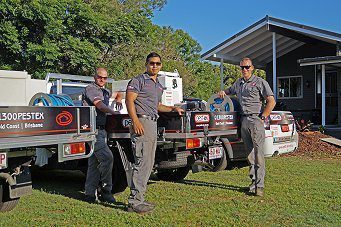 Pest Ex is the leading pest control business serving Springwood and the greater Logan area, providing high quality treatment and detection services in a safe, affordable way to all of our highly valued customers.
Irrespective of whether you need us to service your home or your business, Pest Ex is available 24/7 to help you by providing a comprehensive and effective pest removal with an ongoing management capability that you can talk to us about.
Our detection, removal and management services cover a variety of property types, including, but not limited to:
Shopping centres and retail outlets
Hotels, cafes and restaurants
Schools and child care facilities
Warehouses, industrial complexes and standard office buildings
Apartment blocks, townhouse complexes and traditional free-standing homes
At Pest Ex, we specialise in helping potential new property owners with pre-purchase pest inspections ensuring that they are buying a pest free home.  Using the latest in pest control technology, our team of exceptionally well trained, professional pest controllers deliver results quickly for our customers.  With an unmatched commitment to achieving the best results and only using environmentally safe and tested products, you can rest easy that your property is in safe hands with Pest Ex.
Call today for an obligation free quote and see why over 7000 customers have chosen Pest Ex to help make their property pest free.
PROFESSIONAL PEST CONTROL SERVICES IN Springwood
Homeowners face a dizzying array of pests, and even the most innocuous things might just be a sign that something is wrong.  With over a decade of experience, Pest Ex is able to identify all the risks to your property and come up with specialized proven approaches to detection and treatment.
The most common pests that Pest Ex deal with include:
Termites, ants and spiders
Bees and bee Hives
Cockroaches and mosquitos
Rats and mice
Fleas
And a wide range of other domestic pests
In particular, for our customers in Springwood and the Logan area, we specialise in the detection and treatment of white ants and termites.  Across residential and commercial buildings in the Springwood, termite activity is a considerable problem and Pest Ex have assembled solutions that lead the market in detecting and eradicating these pests.  Our highly trained, professional staff use the latest technology such as thermal imaging cameras, radar and moisture detection to find and destroy infestations of white ants and termites.
As always, our work maintains the highest environmental standards and is backed by our 100% money back guarantee if you are aren't satisfied.

PRE SALE AND Pre Purchase PEST INSPECTIONS You Can Trust
Buying and selling property can be time consuming and incredibly stressful.  For most people their home is the biggest asset they will ever own.  Ensuring that the property is free of pests is one way to add peace of mind for both buyers and sellers.
Let Pest Ex deliver you that peace of mind.
Our pre sales and pre purchase inspection reports involve a comprehensive onsite inspection, and can often be completed on the same day that you contact us or at another pre-arranged time if that's more convenient.
The Pest Ex inspection of your property looks at:
The basement, that includes the underfloor and timber structural elements;
The roof space, taking into account any skylights or vents as well as any trusses or support beams;
The interior of the property, with special consideration given to walls, doors, floors, wardrobes and cupboards; and,
The overall exterior, which includes guttering and downpipes connected to the building as well as any gardens, landscaping or fencing on the property.
You will be given a detailed, 14-page report that highlights the findings of the inspection including colour photos and specific recommendations or treatment options should remediation be required.  Our courteous and professional staff will take the time to discuss the report with you personally or over the telephone if you prefer to make sure you fully understand the findings.
When it comes to acquiring or selling a property, you can never be too careful, so remove the risk and order one of our pre sales or pre purchase pest inspection reports now!
Springwood's Finest Pest Control Company Is Pest Ex
With over 7,000 customers across the Logan area, including Springwood, Pest Ex is the preferred choice of your neighbours when it comes to pest control.  Here are just a few of the reasons they choose us:
Pest Ex is completely licensed, fully insured and we only use products that are safe for you, your family, your pets and the environment
Pest Ex services a wide range of building and property types from homes, to offices all the way through shopping centres, schools and restaurants
Pest Ex comes highly recommended by local conveyancers and banks
Pest Ex delivers reports that are comprehensive and we take the time to make sure you fully understand the findings
Pest Ex uses the latest technology to deliver superior results for our customers
The Pest Ex Guarantee To You
We stand behind our work, no questions asked.  If you're not happy with our service, we offer you a 100% money back guarantee.
Don't take the risk of working with smaller, cheaper pest control companies – choose Pest Ex and know that you're going to get the right outcome and have a positive experience every time.
So, if you are in Springwood and in need of an experienced, qualified and highly professional pest control expert, then give us a call today!