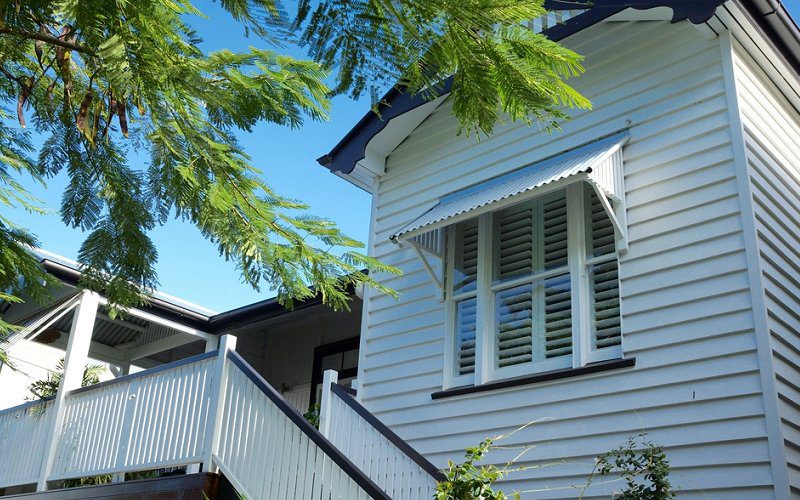 Brisbane is well known for its laid back lifestyle, spectacular scenery and entertainment options, and it's temperate, semi-tropical climate.  While it can be a fantastic place to live, it can bring its own challenges, including being a haven for pests of all shapes and sizes.  Termites, in particular, love the warm and humid weather – they need damp, moist conditions to be able to build their nests, underground tunnels and mud tubes to reach feeding areas.
Obviously there will be some environments that are better for them than others, areas where they will be more attracted to settling and building nests.  From our years of working at providing quality pest control in Brisbane, we've compiled a list of suburbs that tend to be the worst for termite infestations.  If you live in any of these locations, it pays to be extra vigilant when it comes to inspecting your property for termites, and getting a professional termite inspection conducted on at least an annual basis.
If you're considering moving into a property in one of the suburbs listed, get a pre-purchase pest inspection completed before you do.  This can save you an expensive headache down the track if you do find that termites have moved in as well.
10. CARINDALE
Known for the Westfield Shopping Centre, Carindale is also home to a large number of townhouses and body corporate complexes.  On average, these properties were built around 8 to 10 years ago and they would have had a termite treatment applied during construction – known as an under slab treatment – where a termiticide was sprayed in the area before the foundations were set.  This kind of treatment usually protects a property for around 8 years, then will deteriorate over time, with termite control measures needed after this time to ensure full protection.
9. ALEXANDRA HILLS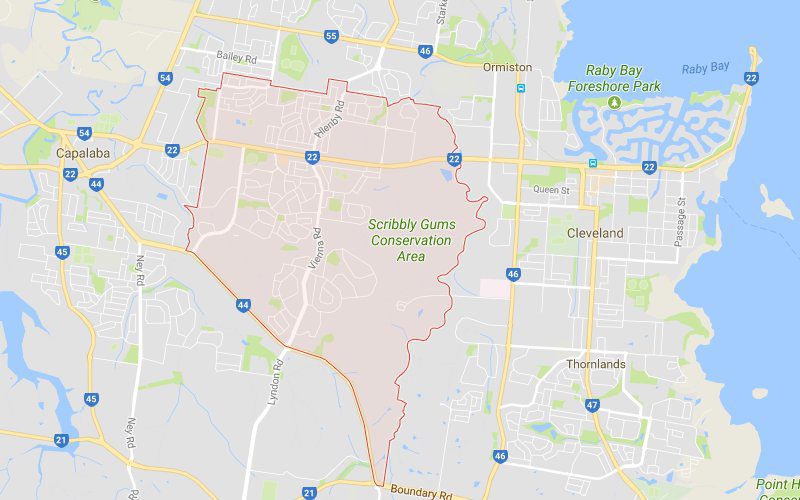 Most properties in Alexandra Hills are located on spacious, green blocks of land, meaning lots of trees and lots of soil for termites to build nests and tunnels into.  Many of the calls we receive from this suburb are related to property owners suspecting they have termites in their gardens or yards.  A termite inspection in this area will look at all areas on the block of land, including any trees, tree stumps, drains, wood piles, outdoor structures such as sheds and garages, as well as the buildings.
8. HENDRA
When you think of a classic Brisbane suburb, chances are you'll probably be imagining a place like Hendra.  It is well known for its sprawling Queenslander houses on large blocks of land and wide, Jacaranda lined streets.  Because of the large houses, amount of room and stunning surroundings, it's popular with families.   Unfortunately termites are attracted to the area for these very same reasons, and we get between 10 and 20 calls a month from property owners who have found evidence of termites in their garden, home or garage, or just want a termite inspection to ensure these pests don't get a foothold on their land.
7. CAMP HILL
Similar to Hendra, the suburb of Camp Hill is made up predominantly of older style Queenslander homes set on large blocks of land, with pockets of bushland in between properties.  This sheer amount of timber in the area will make an ideal breeding ground for termites, and is one of the reasons why we get so many calls from concerned property owners on a monthly basis.
Another reason is simply the way the majority of homes have been constructed, as well as the fact that the suburb is built on a hill.  Many of the older homes are built on a slope, with brick tiers underneath the building, and with a covering of decorative wooden lattice.  While it may look attractive, the lattice may be actually in contact with the ground, giving the termites a perfect route into the building.
6. CARINA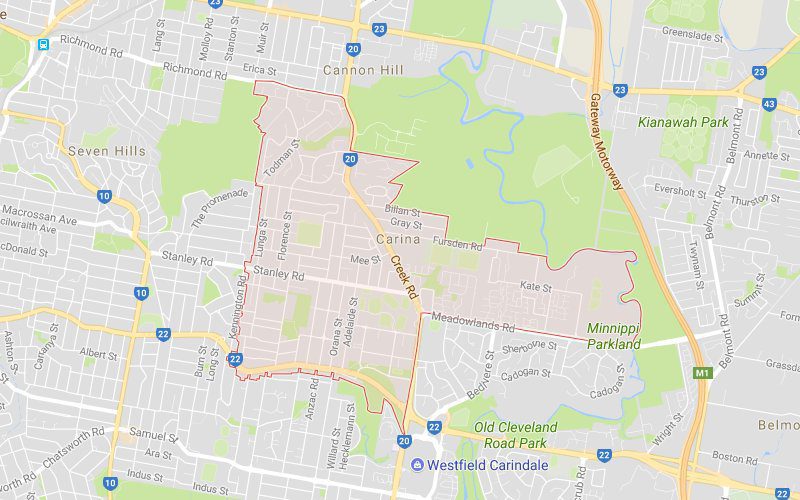 Carina is an older suburb, and has a mix of old and new residential homes, surrounded by areas of bushland.  Interestingly, we get most of our calls about termites from property owners in Carina in newer homes.  This generally is because these homes are built on slabs that have had a physical termite barrier laid down during construction.  While these barriers do help to stop termites from entering a property through the foundations, they do deteriorate over time.  They also don't actually repel termites, and any movement in the building can create rips or holes in the barrier, letting the termites in.
5. CALAMVALE
Calamvale is a high density suburb with many apartments and body corporate units, and we get many calls every month from property owners who are concerned that either a unit or duplex in their complex might have a termite issue, or they suspect their home might have them.  These types of properties are particularly at risk because once a termite colony settles in, they can travel up to 50 metres to build a new sub nest, and then up to 40 metres once that's been established.  In a group of townhouses or units, this can mean the entire block is in range and can be affected.
4. ANNERLEY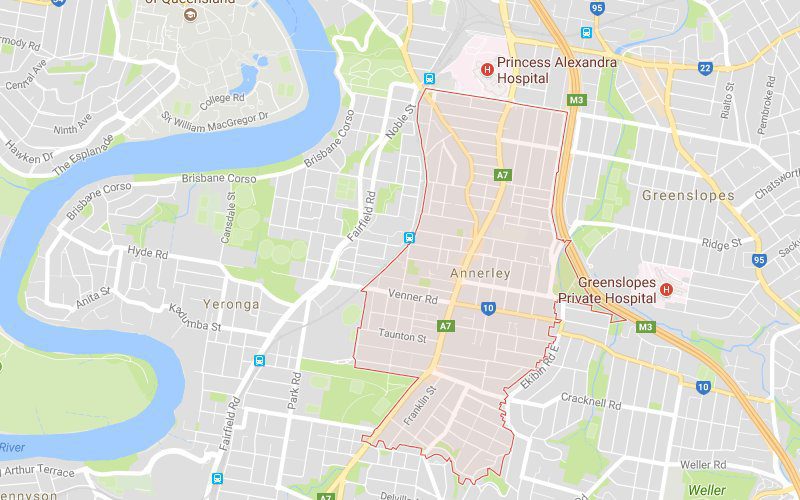 Annerley is one of the oldest suburbs in Brisbane, and has a lot of Queenslanders with large, green blocks, and generally the calls we get are from property owners who find evidence of termites in their gardens or backyards.  Because they are large, with generous storage areas, the Queenslander type of building may actually attract termites more than other homes, as people are tempted to store miscellaneous items that termites will eat such as wood and old papers.
3. KENMORE
Kenmore is a leafy suburb south west of the Brisbane CBD, and it mainly made up of newer medium density unit blocks and townhouses.  We get many calls every month from concerned property owners, mostly because the types of buildings makes Kenmore susceptible both in terms of under slab treatments wearing out over time, as well as termites making nests in group of homes that are located close to each other.
2. ACACIA RIDGE
Established after the Second World War, Acacia Ridge is full of older style homes in a bushland setting, and it's also surrounded by creeks and low lying ponds.  Brisbane is susceptible to flooding and has a low water table, meaning that areas such as Acacia Ridge have high moisture content and pockets of water logged soil, providing perfect breeding grounds for termites.
1. FOREST LAKE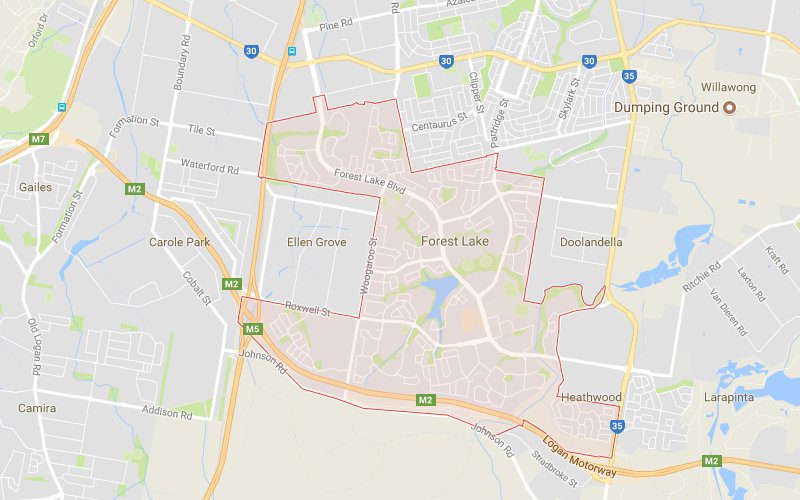 The dubious honour of first place goes to Forest Lake, and on average we receive 2 to 3 times the calls about termites than from other suburbs in Brisbane.  Forest Lake was the first master planned community in Brisbane, and was founded around 15 years ago.  While the suburb itself has received numerous awards for its design and surroundings, unfortunately for the residents the site was always going to be a haven for termites.  This is because when they originally cleared the land, they bulldozed the trees and shrubs into the soil, burying the termite colonies with them.  Although the new builds were constructed with under slab treatments, these do not repel termites and once the building has shifted and small imperfections in the barrier are created, the termites will simply find a way through.
In extreme cases, the termites can do tens of thousands worth of damage to a property (up to as much as $150,000), with entire rooms needing to be stripped and rebuilt, or wet rooms needing to be completely re-sheeted, re-waterproofed and re-tiled.
pest ex are the termite professionals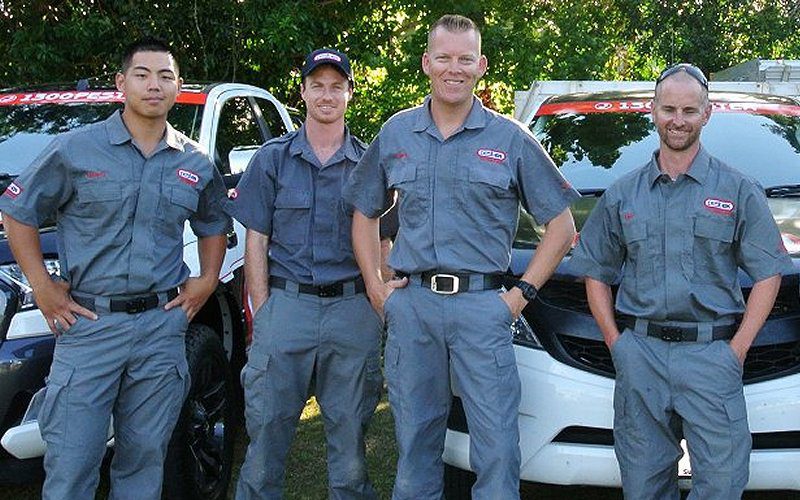 If you do happen to live in any of these suburbs, or feel that you may have a termite issue, don't put off calling in the professionals.  Every month or year that you wait, termites could be moving onto your property, and what could be easily treated can quickly turn into a full scale infestation, costing your thousands of dollars in repairs.
We have the experience, the expertise and the right tools to be able to find and treat any termites, as well as protect your property on an ongoing basis.