BASF have earned the reputation in creating the worlds best termiticide – Termidor. This product is far more unique compared to other termite control products as it is a non-repellent chemical that won't repel the termites away from the treated soil area.
Many years ago, past termite barrier treatments would only repel termites away from the home as termites can detect the non-repellents in the soil. Termites would then go away from the treated area or go under the treated zone and find a way into the home.
Termidor however changed the termite protection industry when the product became available to professional pest control operators. Termidor is different as it's a non-repellent chemical that is undetectable to termites in the ground. When a termidor termite barrier is installed around a home or building it creates a complete undetectable treated zone around the property.
Termites cannot detect termidor in the soil and simply pass through the treated zone unknowingly passing through the treated zone containing fipronil. This non repellent then starts to affect the termites 5-18 days after contact allowing thousands of termites to travel back throughout the colony. As these termites begin to be affected by termidor other termites groom the affected termites and then become affected by the product from grooming or cannibalization.
This results in widespread termite colony elimination due to its industry leading transfer affect.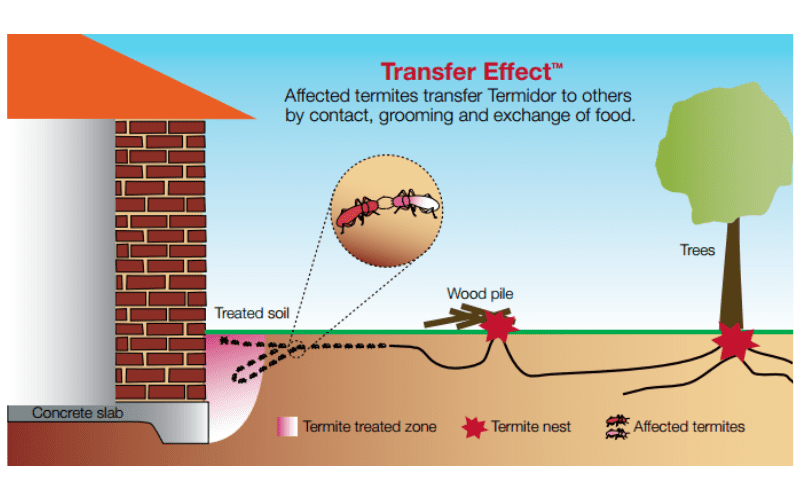 How long does termidor last?
Termidor termite barriers installed by Pest-Ex will provide complete termite protection for 8 years. We recommend yearly termite inspections as part of the 8-year life expectancy to ensure the termite treated zone isn't weakened or breached by conducive conditions.
Conducive conditions may include
Hot water drip tubes or A/C drip tubes dripping against wall edges (Moisture attracts termites)
Landscaping modifications
Mulch against wall edges or treated zones
Drainage issues
To maintain your 8-year warranty any conducive conditions found during yearly warranty inspections will need rectification.
Termidor warranty $2 Million peace of mind guarantee
Termidor is so confident with its product when installed by accredited installers they will issue qualifying properties with a $2 million-dollar structural warranty. Using an accredited operator also ensures your home is treated with genuine termidor not a cheap Chinese copy.
Termidor warranty process: Upon completion of your termidor barrier we will issue all certificates and batch numbers to termidor for the warranty application. Within 2 weeks you will receive a warranty certificate from termidor to confirm your warranty is now valid.
Homeowners can also register their own warranty here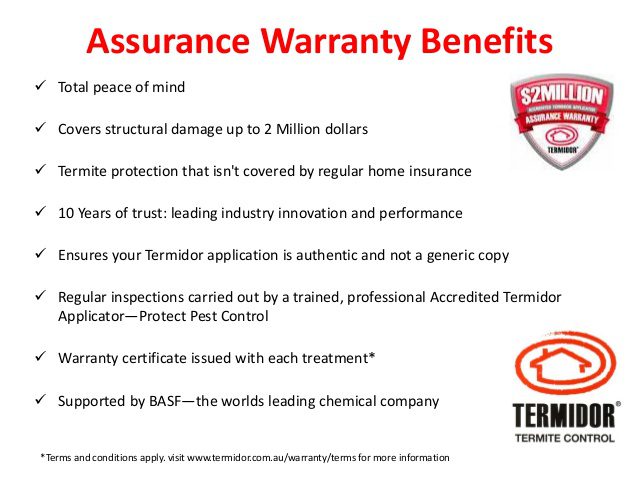 Termidor Price
The price of a Termidor treatment will vary depending on the following conditions
Construction type of home
Soil types (Clay type soils can sometimes require more meterage product to be used)
Concrete path areas compared to soil areas around the home as quantity under concrete varies.
The average termite treatment cost for a full Termidor barrier will range from $2,900 to $3,600 for most houses
Termidor ant treatments will usually cost $180-$220
Termidor post treatments will usually cost $180-$220
Termidor treatments to termite mound nests will usually cost $180-$220
Call us out for a free site visit and assessment if you are requiring a exact Termidor quote
How long does Termidor take to work?
Termidor will usually take 5-18 days to affect the termites as required, this is needed so that the transfer affect will be achieved, and successful elimination of the termite colony will be achieved.
When termites are eliminated future termite colony's will be affected by the Termidor treated zone also in 5-18 days resulting in colony elimination of the termites before they access the home.
Termidor for ants
Termidor works extremely well on ants also due to its transfer affect, Ants can be eliminated from lawns using the product. Usually we will apply a fine spray over the top of the grass and lawn areas using enough product to wet the soil. This means when the grass is cut the Termidor will still be bonded to the soil.
As ants pass through the treated areas and then under ground throughout their nests complete elimination is achieved through the transfer affect.
Termidor ant treatments will usually last 1 year.
Where to buy termidor?
Termidor is available to authorized installers only, most online versions are not the genuine product (Black market generic copies) the genuine product is the best termite product by far. However, if its not applied correctly using specialist tools pumps and injection rods it will fail.
Construction design is also crucial to the success of your successful treatment, Termidor trained technicians at   Pest-Ex are skilled at determining what homes are most suited to the product.
How to apply termidor
Termidor is applied by Pest-Ex technicians using specialist equipment and training allowing us to install the product completely and thoroughly.
Termidor barrier preparation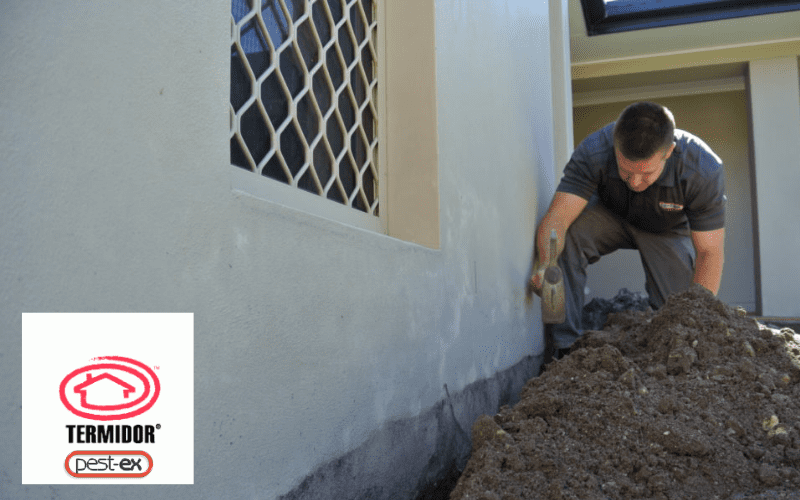 First Pest-Ex technicians will dig a trench around the perimeter of the home to a depth of 100mm below the footing.
Technicians will then drill and inject the perimeter tiled areas or concrete areas around the wall edge of the home. Now the perimeter is ready for the application of termidor.
Termidor barrier application
Technicians will apply Termidor to all trenched areas using a high pressure/low volume Honda nova pump (petrol powered) These trenched areas will have 10 litres per meter applied into the trench while back filling the dug-out soil back into the trench. The emulsion is stirred while the product is being applied to give a complete treated soil zone.
Drill holes in paths or driveways will be injected also with specialist injection rods that disperse the Termidor correctly under the path or driveway slabs creating a complete even treated zone around the home. Under concrete areas will also receive high pressure injection using 10 litres per meter of product.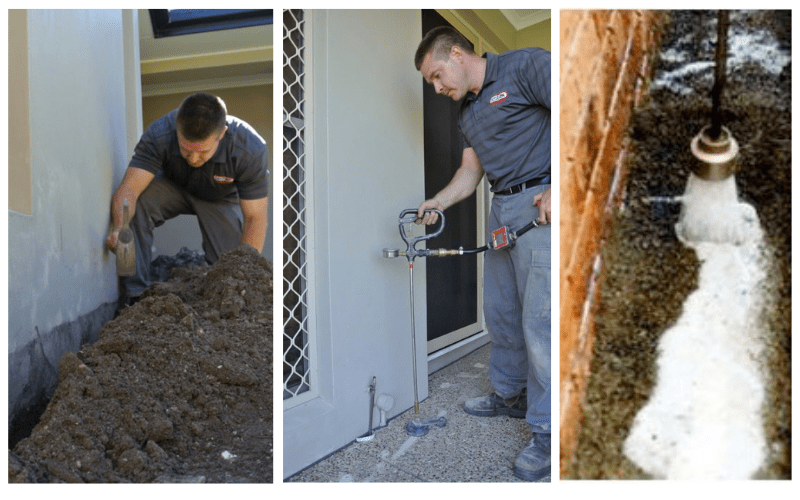 Small drill holes will be plugged on completion using colour matched plugs for a neat finish.
The average house is 70 lineal meters around the home and will require 700 litres of termidor as 10 litres per meter is the required rate to last 8 years.
Beware of Termidor Imitators
Termidor contains 6% fipronil and is the main active ingredient that affects the termites. However, the other 94% of ingredient is what makes termidor so different. Termidor has created an unrivalled product due to this secret formula as it binds to the soil unlike other versions of fipronil.
Beware of farm supplies stores selling fipronil products saying it's the same as termidor. Its not as the agricultural product version of fipronil is designed to bind to plants and crops and it wont last in the soil nor be affective.
Any product or sales rep that says their product is the same as Termidor is falsely informing you as the only thing that may be the same is the 6% of fipronil. Termidors remaining 94% is the secret recipe that no one has been able to clone. Just like the colonel KFC Kentucky fried chicken recipe! DIY termite control is not recommended.
Pest-Ex Review Termidor 10/10
We have used this product successfully for 11 years, we have done over 7,000 termite barriers using termidor without a single site failure. We put this down to correct mixing of the product, correct site preparation and our specialist tools and pumps to apply the product.
Termidor is also our favored termite treatment as it breaks the entry point of termites. When termites enter a home, they enter the home through the ground entering the house through their tunnel also known as their entry point. When a termidor barrier treatment is done trenching and injecting 10 litres per meter will break the existing or old entry points into the home.
BASF have also created Termidor HE also known as high efficiency, its known ability to penetrate the soil deeply and allows for drilling to be more spaced apart. Read the full review on Termidor HE
We hope you find this termidor review informative!
Mention this article and save $200 on a termidor barrier treatment!
If you would like a free onsite assessment and quotation on termidor please get in touch!
READY TO WORK WITH US?